Catalytic EGR Reforming Decreases Fuel Use 8% in Gasoline Engine
S. Himmelstein | March 05, 2018
On-board catalytic fuel reforming technology was demonstrated to increase the brake efficiency of a multicylinder, stoichiometric spark-ignited (SI) engine by increasing exhaust gas recirculation dilution tolerance. U.S. Oak Ridge National Laboratory researchers report that under an engine operating condition of 2,000 rpm and brake mean effective pressure (4 bar), catalytic external cooled exhaust gas recirculation (EGR) reforming made it possible to sustain stable combustion with a volumetric equivalent of 45-55 percent EGR. Under this same operating condition with stoichiometric engine exhaust (and no reforming), they could only sustain stable combustion with EGR under 25 percent.
The results indicate that multicylinder gasoline engine efficiency can be increased substantially with catalytic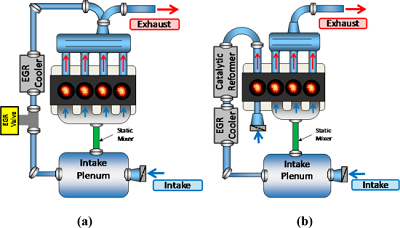 Schematic of the engine and test cell configuration for (a) the conventional EGR configuration and (b) the catalytic exhaust gas recirculation (EGR)–loop reforming strategy. Source: Chang, et al.reforming combined with higher EGR operation, resulting in a decrease of more than 8 percent in fuel consumption, compared to baseline operation.
External cooled exhaust gas recirculation (EGR) provides known thermodynamic benefits toward improving the efficiency in SI engines while maintaining compatibility with conventional three-way catalysts for emissions control. These benefits include: reduced pumping work at partial-load conditions, decreased heat transfer due to lower cylinder temperature and increased ratio of specific heats.
The technology also decreases the propensity of knocking for a given fuel, which can be used as the basis for additional increases in efficiency through more advanced combustion phasing or higher compression ratio. EGR also reduces nitrogen oxides emissions over a broad range of speed and load conditions.
However, the amount of EGR dilution that can be used is limited due to cycle-to-cycle combustion instability, thereby limiting its potential efficiency benefits.
Undeveloped benefits of the technology include:
As the results of the current study were achieved without an engine or catalyst optimization, significant optimization should be possible, such as increasing the compression ratio.
The geometry of the engine could be optimized. The study engine uses a square combustion chamber geometry (stroke = bore), whereas newer engines that are highly tolerant of EGR dilution are under-square (stroke > bore). An under-square geometry increases the mean piston speed and, by extension, the in-cylinder turbulence, which scales with mean piston speed.
Higher turbulence shortens the duration of the early flame kernel development by transitioning to turbulent combustion sooner, thereby increasing combustion stability, and shortens combustion duration, which increases efficiency, they noted.
No attempt was made to optimize the fuel injection timing or targeting, or more broadly, optimize the overall catalyst fueling strategy.
The research is published in ACS Energy & Fuels.