Powerful Offshore Wind Turbine in the Works at GE
S. Himmelstein | March 02, 2018
GE Renewable Energy has big plans for offshore wind energy technology. The company is embarking on a $400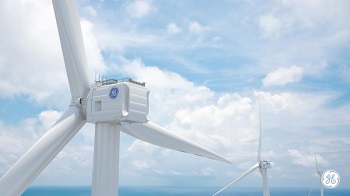 Source: GEmillion project to design and build a turbine that will produce 45 percent more energy than the largest turbine available. The Haliade-X will feature a 12 MW direct drive generator and a gross capacity factor of 63 percent.
Each turbine will deliver 67 GWh of energy per year, sufficient to power up to 16,000 typical European households. Its large size will enable offshore wind farm operators to reach their power goals using fewer wind turbines, thereby reducing capital expenditure, risk in project execution and simplifying maintenance and operation.
Additional specs announced for the Haliade-X: each turbine will be equipped with a 220-m rotor and 107-m-long blades — the longest offshore blades developed to date — and will rise 260 meters above sea level.
The blades were designed and will be manufactured by LM Wind Power, a Danish blade specialist acquired by GE in 2016. The first nacelle for demonstration is expected to be available in 2019, and the first units are scheduled to ship in 2021.