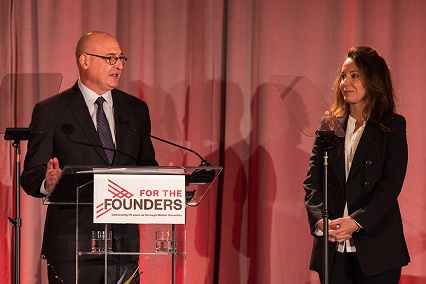 Keith Block and his wife Suzanne Kelley announce donation to establish the Block Center for Technology and Society. Source: Carnegie Mellon.
A new center at Carnegie Mellon will investigate the societal impact of emerging technologies.
Research at the Block Center for Technology and Society will produce public policy recommendations intended to spread the benefits of technological advances. The center's initial focus will be the future of work, investigating the impact technology will have on workers at every skill level. The center will be housed in Carnegie Mellon's Heinz College of Information Systems and Public Policy.
Keith Block, vice chairman, president and COO of Salesforce, and his wife Suzanne Kelley, provided the initial $15 million funding. Block earned a bachelor's degree in Information Systems and a master's in Management and Policy Analysis from Carnegie Mellon.
"Innovation delivers powerful advancements that will have a profound impact on everyone," said Block. The center will solicit inputs and expertise from the public and private sectors to tackle problems and develop responses that make the world a better place.
The Block Center compliments other university initiatives around technology and society, including the Simon Initiative and Metro 21, a smart cities program.