Bigelow Aerospace, a manufacturer of large space stations with expandable habitat architectures, has announced a new subsidiary, Bigelow Space Operations (BSO). The new business will manage the sale, customer service and operation of space stations developed by Bigelow Aerospace.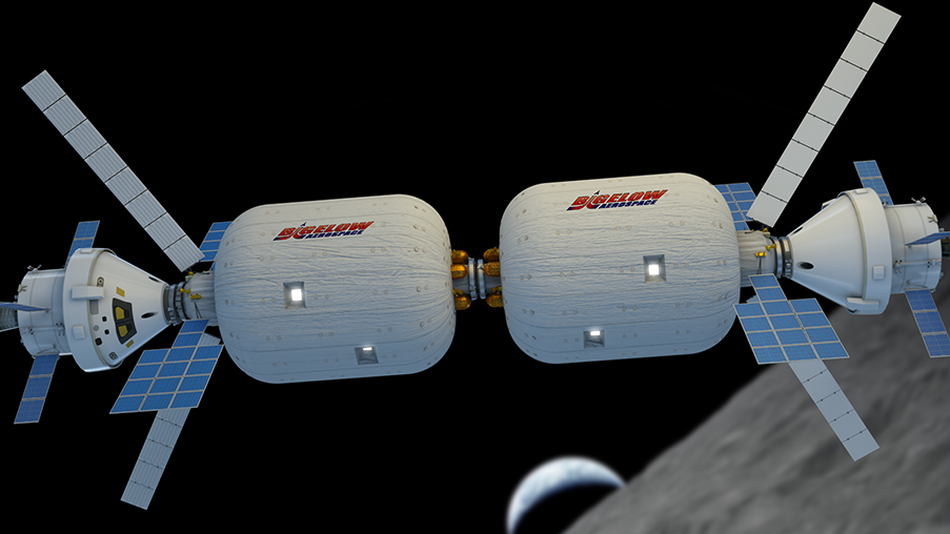 Concept image showing two of Bigelow Aerospace's B330 expandable space station modules connected together in orbit about the Moon. Source: Bigelow Aerospace
Bigelow's soft-body habitats launch in a compact configuration. Once they reach orbit, they are expanded to their full size. The company emphasizes that in addition to better radiation shielding, this approach offers a greater ratio of living space to launch mass compared to traditional aluminum designs.
BSO's first task will be to carry out a detailed evaluation of the market opportunity for commercial space stations like its expandable space habitats. It will reveal the results of the study this year. Bigelow expects a wide range of prospective customers.
"What we've always anticipated and expected is that we would be very involved in helping foreign countries to establish their human space programs, and be able to facilitate whatever their needs were in whatever context that they wanted to pursue," said Bigelow Aerospace founder Robert Bigelow on a conference call with journalists. "The corporate world, obviously, is huge, and [leveraging] that is also our intent."
BSO also revealed it was partnering with the Center for the Advancement of Science in Space (CASIS). CASIS manages research activities for the section of the International Space Station designated as a U.S. National Laboratory. BSO will initially provide payload integration services to the International Space Station (ISS), gaining experience and building relationships that it can leverage to promote its own space stations.
Early Stages
Bigelow Aerospace was founded in 1999 by entrepreneur Robert Bigelow, who as a child aspired to launch his own space program and resolved to fund his dream by choosing a lucrative job. After a successful career developing commercial real estate motels, Bigelow established the company and purchased the rights to commercialize NASA's expandable habitat technologies. Since then, Bigelow Aerospace has worked to improve and perfect expandable habitat designs.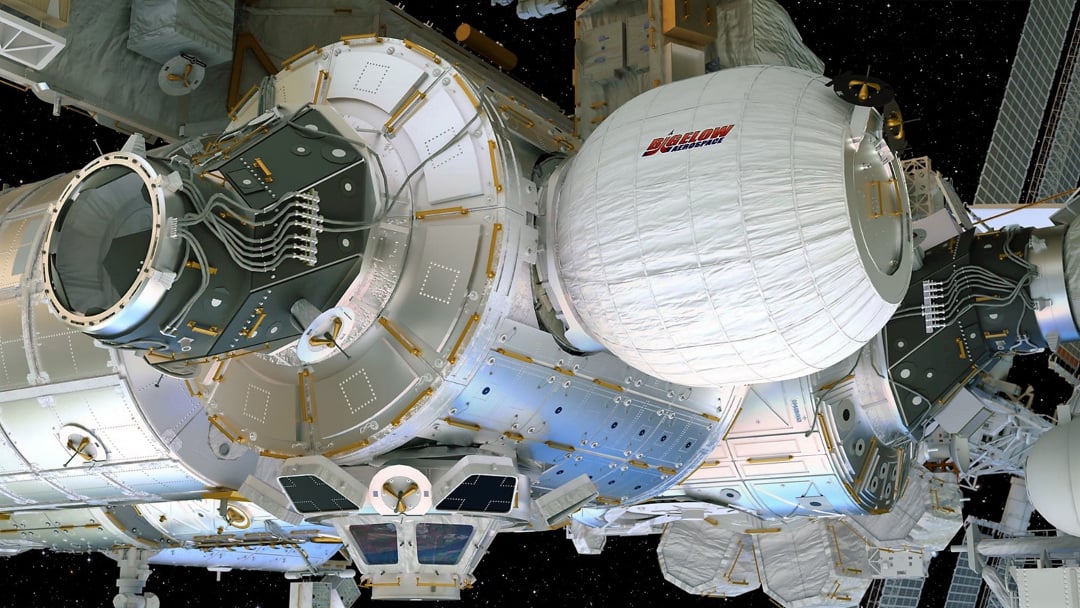 The Bigelow Expandable Activity Module (BEAM) attached to the International Space Station's Tranquility Node. Source: NASA
Bigelow Aerospace's inflatable space stations have already distinguished themselves with a number of successes, logging a considerable number of flight hours. The company launched its experimental, small-scale Genesis I and Genesis II modules in 2006 and 2007, respectively, to validate its expandable, soft-body habitat designs. The 11.5 m3 (406 ft3) modules remain in orbit today, though they will eventually burn up in the atmosphere as their orbits decay.
In December 2012, Bigelow Aerospace was awarded a $17.8 million NASA contract to develop and operate an expandable habitat docked to the ISS. The Bigelow Expandable Activity Module (BEAM) launched in 2016 on a Falcon 9 rocket on the eighth SpaceX Commercial Resupply Service mission, adding 16 m3 (565 ft3) of volume to the ISS. In its packed form, the 1,400 kg (3086 lb) module measured just 2.16 m (7.09 ft) in length and 2.36 m (7.74 ft) in diameter. Expanded to its full extent, the cylindrical structure boasted dimensions of 4 m (13.2 ft) long by 3.23 m (10.56 ft) in diameter.
After successfully demonstrating the feasibility of expandable space habitats, NASA extended BEAM's contract for three years in November 2017. The module will be used to provide storage space for space station hardware. In addition, the prolonged mission will allow data to be collected on the module's long term structural integrity, thermal stability and resistance to radiation, space debris and microbial growth.
Full Scale Habitat
Bigelow Aerospace is developing a full-scale expandable habitat, the B330, which it bills as a "fully autonomous stand-alone space station." With 330 m3 (11,650 ft3) of internal volume, the 6.7 m (22 ft) wide, 16.88 m (55.41 ft) long habitat is equipped with a complete suite of life support systems and has enough space for 6 crew members. Its dual chamber airlock can be used for multiple functions including EVA spacewalks and vehicle docking. It can even serve as a safe haven during emergencies.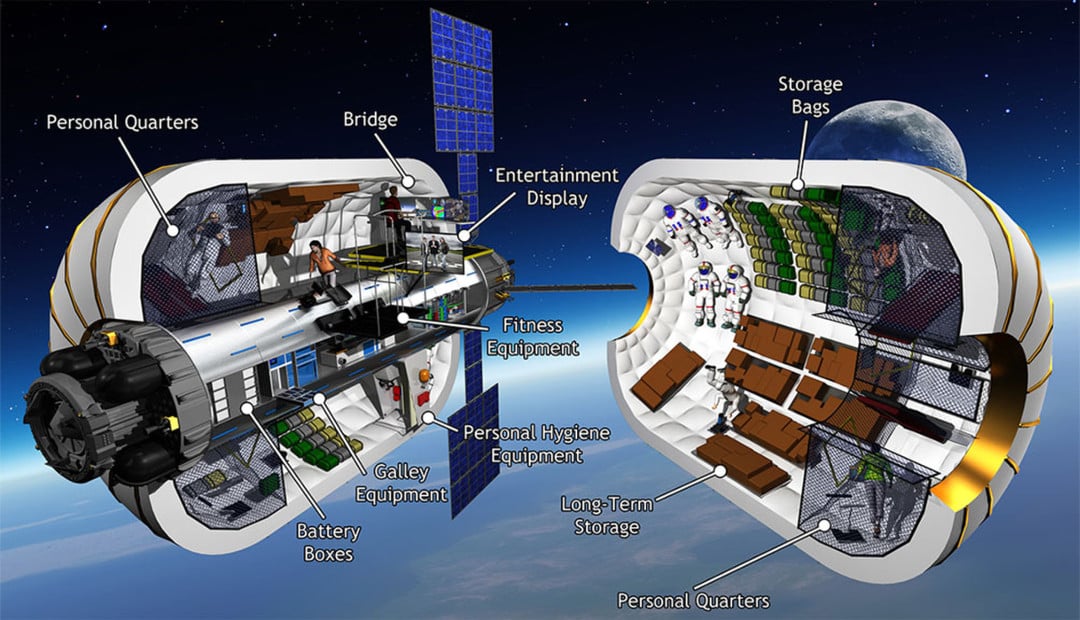 Cutaway concept illustrating one possible layout for the facilities on a B330 expandable space habitat. Source: Bigelow Aerospace
The B330 features a forward docking system for visiting spacecraft as well as an aft docking system to connect with a second B330 or the ISS. It also has forward and aft propulsion systems for orbital control and maneuvering, shielding to protect the station from micro-meteoroid orbital debris (MMOD), and dual arrays of both radiative panels to remove heat from the station and solar panels for power generation.
Bigelow Aerospace envisions multiple uses for the space station including everything from microgravity research and cleanroom manufacturing to military defense and intel gathering. Other possible applications include farming, entertainment, warehouse storage and even use as a private space yacht.
The company plans to launch two of these expandable habitats, B330-1 and B330-2, into Earth orbit in 2021. It noted in a press release that "these single structures that house humans on a permanent basis will be the largest, most complex structures ever known for human use in space."
BSO will begin marketing the facilities this year to arrange client contracts for transportation of crew and cargo as well as station operations.
Bigelow Aerospace has proposed attaching a full-scale version of the B330 to the ISS called the XBASE (Expandable Bigelow Advanced Station Enhancement).
Bigelow Aerospace has longer term plans to develop a massive version of its expandable habitats called Olympus with over six times the internal volume of a B330. The company expects to start working in earnest on the module within eight to ten years.