Amazon is the Most Valuable Brand According to Brand Finance Global 500 2018 Ranking
Abe Michelen | February 22, 2018
The independent British branded business valuation company Brand Finance just published its annual ranking of the most valuable brands for 2018. The ranking — called Global 500 2018 — lists Amazon as the most valuable brand in the world, beating Google and Apple, the first and second most valuable brands respectively in 2017.
The value of the online giant's brand increased by 42 percent from last year's ranking, up to $150.8 billion, as is shown in the included table of the first 20 brands. Again this year, the Brand Finance Global 500 list shows that technology brands occupy the top five positions. The second and third place went to Apple and Google, respectively, followed by Samsung in fourth place and Facebook in fifth place.
Brand Finance CEO David Haigh says about Amazon: "The strength and value of the Amazon brand gives it stakeholder permission to extend relentlessly into new sectors and geographies. All evidence suggests that the amazing Amazon brand is going to continue growing indefinitely and exponentially."
This year's list indicates that technology companies are twice as valuable as telecommunications companies. According to the study. The prevalence of digital will grow even more in the next few years, as other brands make their way into the Global 500. YouTube, owned by Google, has doubled its value to $25.8 billion by moving up in the ranking from 112 to 42.
Likewise, Chinese technology brands can also boast of their significant growth in brand value. Since 2008, China's share in the value of brands in the world has increased from 3 percent to 15 percent to reach $911 billion in 2018. "Once again, the growth of China's brands stands out in our study," David Haigh says. In addition, he stated that "since the Nineteenth Congress of the Communist Party of China in 2017, there has been a renewed emphasis on the development of brands by Chinese companies in any sector."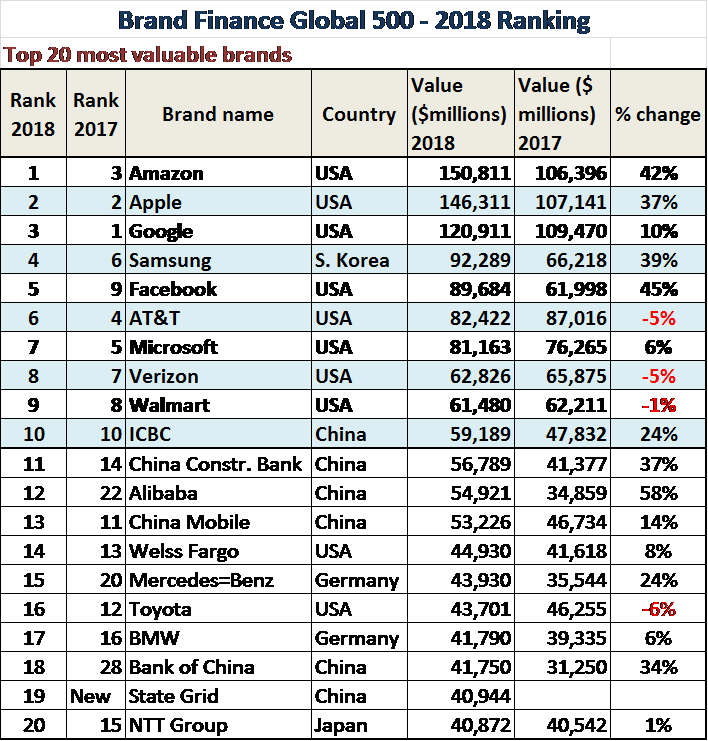 A graph of the percentage changes of the first ten companies is shown below: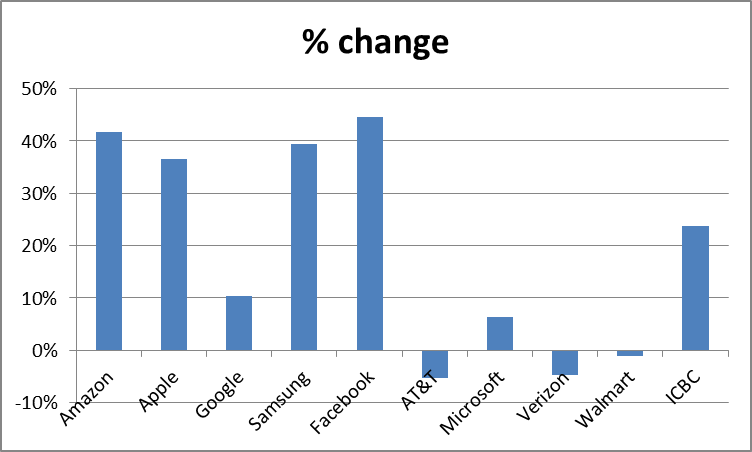 Analysing the brand value by sector of the economy, the technology digital sector represents almost one-fourth of the total world brands value, surpassing even the bank industry, as we can see in the figure.

Looking at the brand values by country, the United States is clearly the world leader with brands valued at over $2 trillion, representing 43 percent of the total world value. China is a distant second with 15 percent of the total world value. This represents almost the total brand values of the three most power countries in Europe: Germany, France and the United Kingdom, as shown.