NASA's New Exoplanet Hunter Will Begin Searching for Earth-like Worlds Orbiting Other Stars This Year
Eric Olson | February 21, 2018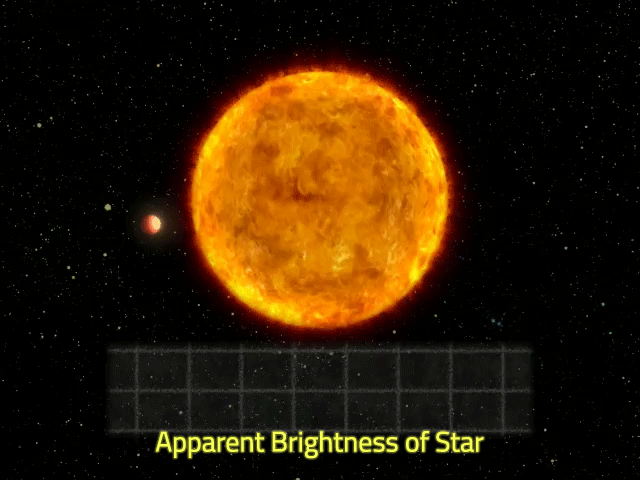 The depth of a transit light curve can reveal details about a potential planet's size in comparison to the size of its star. Source: NASA's Goddard Space Flight Center
This year, a new NASA Explorer Mission will begin surveying the brightest and nearest stars to our sun for signs of orbiting exoplanets, including Earth-like worlds capable of supporting life. The Transiting Exoplanet Survey Satellite (TESS) will monitor over 200,000 nearby stars, and is expected to discover over 2,000 exoplanet candidates. Of these, scientists predict that around 300 will be Earth-sized or super-Earth-sized, which are no bigger than twice the size of Earth.
Planetary Transits
TESS will search for exoplanets via the transit method, watching for recurring reductions in star brightness as telltale signs of orbiting planets.
The satellite will monitor the brightness of many stars simultaneously by snapping photos of wide swaths of the sky at frequent intervals. Successive images will be analyzed for dips in the brightness of individual stars that occur on a periodic basis. Such dips suggest that a large object could be periodically blocking some of the star's light as seen from the satellite, possibly indicating a planet is repeatedly passing in front of the star as it orbits. The resulting transit light curve plotting brightness versus time can be analyzed to uncover details about the planet's size and other physical properties.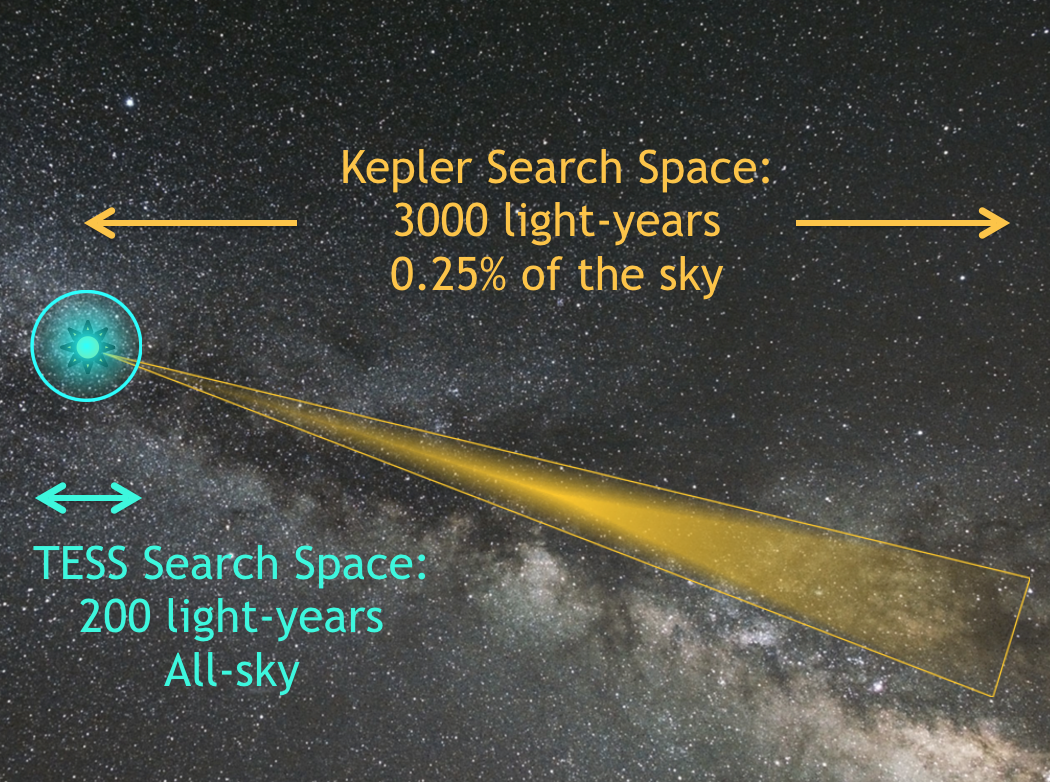 A comparison of the search spaces of TESS and Kepler. Source: Zach Berta-Thompson
All-Sky Survey
Compared to an earlier exoplanet hunter, the Kepler space observatory, TESS will be targeting a different set of stars in its search for worlds beyond our solar system. The new satellite will capture images of over 90 percent of the sky, focusing on stars within 200 light-years of Earth. This search space is nearly 400 times larger than Kepler's, which monitored a section of the sky representing only 0.25 percent of the celestial sphere in a long, narrow cone extending 3,000 light-years from Earth.
The Kepler mission discovered thousands of exoplanets, yielding the revolutionary conclusion that planets ranging in size from rocky planets like Earth to gas giants like Neptune are common in the Milky Way. But most of the stars observed by Kepler were so far away that follow-up observations by ground-based observatories were difficult.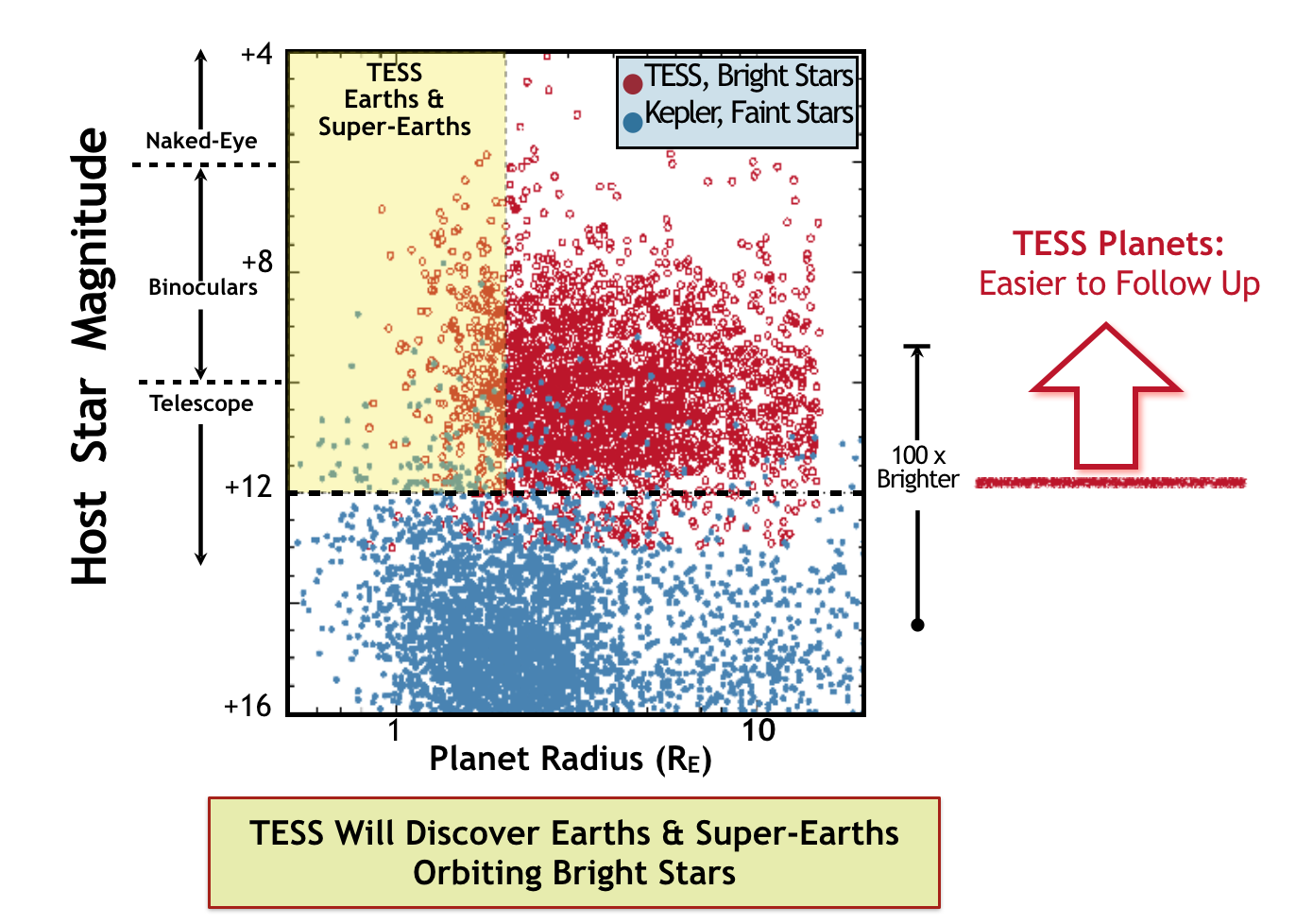 TESS will identify thousands of exoplanet candidates orbiting bright stars that will be easier to study with follow-up observations compared to those found by Kepler. Source: MIT
TESS is similarly expected to discover thousands of exoplanet candidates. And since it is targeting bright stars closer to Earth, 30 to 100 times more luminous than those studied by Kepler, it will be considerably easier to perform detailed follow-up studies. These supplemental examinations — carried out by ground-based telescopes and orbiting observatories such as the Hubble Space Telescope and the future James Webb Space Telescope — will both confirm that the TESS Objects of Interest (TOIs) are truly planets as well as provide specific details about the planets' characteristics, such as size, mass, density and atmospheric composition.
Observation Sectors
TESS will survey nearly the whole sky over its 2-year mission, covering the Southern hemisphere in its first year and the Northern hemisphere in its second. The sky will be divided into 26 observation sectors, each spanning 96 degrees by 24 degrees. Within each sector, brightness measurements for 15,000 target stars will be taken on a 2-minute cadence, with full frame images acquired every 30 minutes.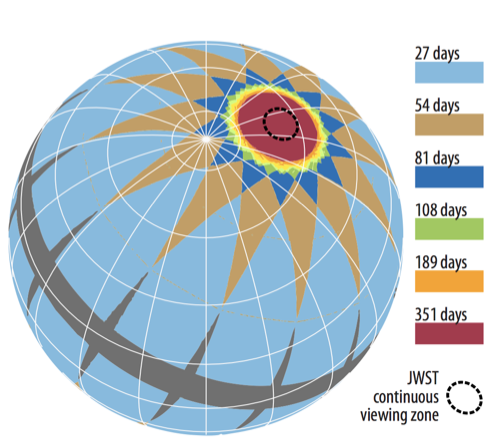 TESS will observe 26 individual sectors of the sky for 27.4 days each. The sectors overlap at higher latitudes, increasing observation time for regions near the poles. Credit: NASA
Each sector will be observed in this manner for two orbits of the satellite, totaling 27.4 days. Since the sectors overlap at higher latitudes, regions near the poles will receive increasingly greater observation time, reaching a maximum of 351 days of nonstop coverage at the ecliptic pole, a region of the sky that the James Webb Space Telescope has the ability to view continuously.
TESS will be placed into an elliptical high-Earth orbit beyond Earth's radiation belts in a nearly constant thermal environment where its charge-coupled device (CCD) cameras can operate at a stable -75 degrees Celsius. Inclined with respect to the Earth-Moon plane, with a perigee of 108,000 kilometers (67,000 miles) and an apogee of 373,000 kilometers (232,000 miles), TESS's orbit will remain stable for at least several decades, requiring no additional propulsion to maintain it.
Platform and Instruments
TESS will be built on the tried-and-tested LEOStar-2/750 satellite platform from Orbital ATK, a chassis that has served as the foundation for eight past NASA spacecraft. Designed for photometric stability, TESS features a two-headed star tracker and four-wheel zero-momentum system, providing three-axis stabilized pointing with less than three arc-second performance. The spacecraft runs on 400 watts of power generated by a single-axis articulating solar array. Its temperature is regulated by passive thermal control. Upon completion of an orbit every two weeks, a 100 megabits per second Ka-band downlink transmits data back to Earth.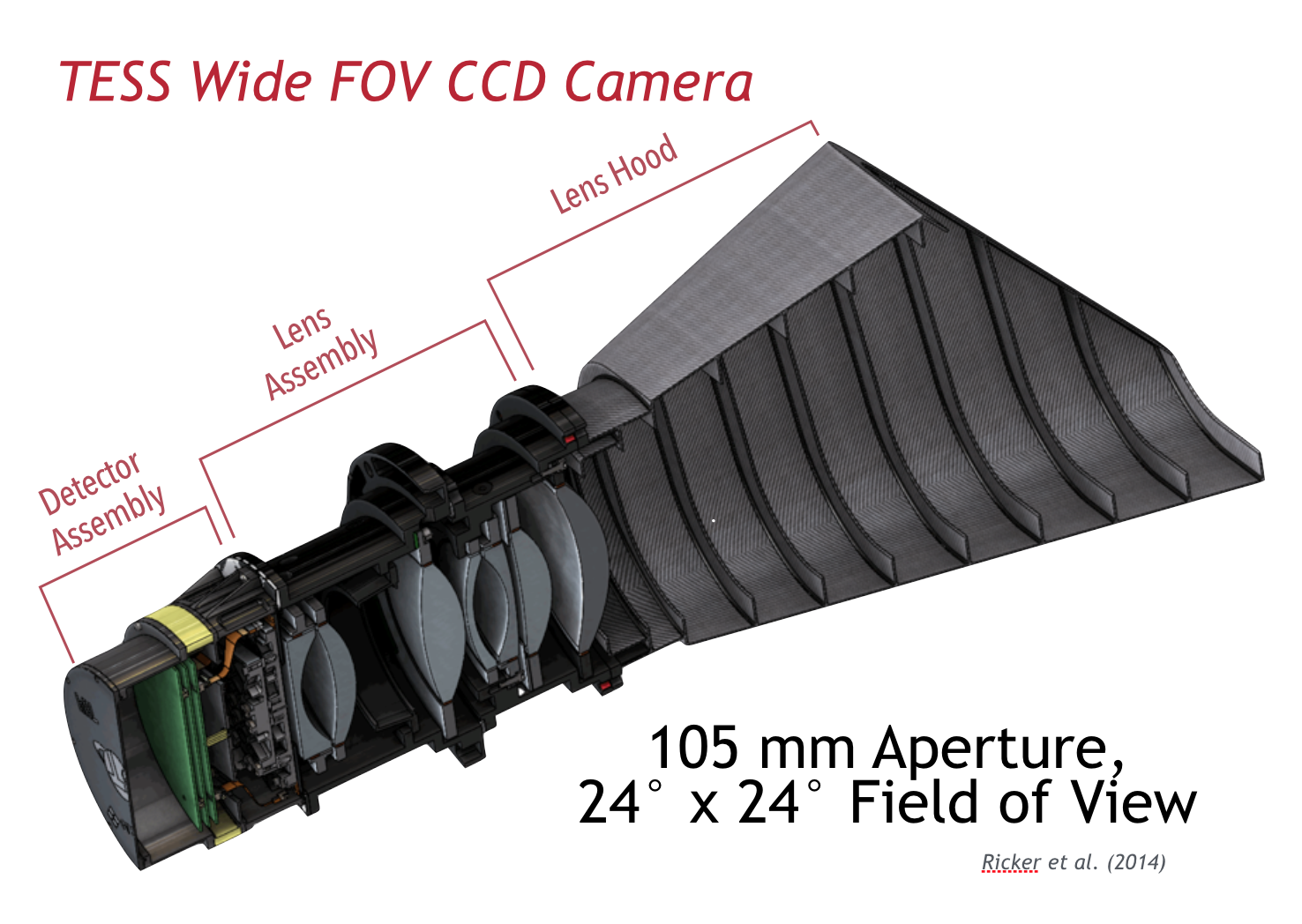 TESS's four cameras each contain seven lenses, an internal stray light baffle and a hood that reduces scattered light from the Earth and the Moon. Source: MIT
The instrument package consists of four wide field-of-view refractive cameras and a Data Handling Unit (DHU). Each of the four cameras has a focal plane CCD array with four back-illuminated MIT/Lincoln Laboratory CCID-80 devices. The CCDs feature 15 by 15 micron pixels and comprise a 2048 by 2048 imaging array and an equivalently sized frame-store region. Combined, the effective detector resolution is 4096 by 4096, or 16.8 megapixels. Bolted to a common plate, the four cameras create a total simultaneous field-of-view of 24 degrees by 96 degrees.
TESS's detector is designed to observe cool, red M dwarf stars with a wide bandpass spanning from the middle of the visible spectrum into the near infrared from 600 to 1000 nanometers. This bandpass was chosen because a majority of nearby stars are M dwarfs. Moreover, detecting planets orbiting these small stars is easier compared to larger, hotter stars due to larger transit signals.
Guest Investigator Program
In addition to its primary exoplanet identification objective, the TESS mission will also be conducting a Guest Investigator Program. This initiative will afford researchers from the wider scientific community an opportunity to request observation of tens of thousands of additional targets for astrophysics research.
TESS is scheduled to launch between April 16 and June of 2018 on a SpaceX Falcon 9 rocket from Cape Canaveral Air Force Station in Florida.
The satellite arrived at Kennedy Space Center near the launch site on February 12, 2018 after a 17-hour road trip aboard a truck. The spacecraft was transported from Orbital ATK's facility in Dulles, Virginia where it underwent assembly and testing over the past year. In 2013, the company received a $75 million contract from NASA to build the satellite.
TESS mission collaborators include the Massachusetts Institute of Technology, the Kavli Institute for Astrophysics and Space Research, NASA's Goddard Space Flight Center, MIT's Lincoln Laboratory, Orbital ATK, NASA's Ames Research Center, the Harvard-Smithsonian Center for Astrophysics and the Space Telescope Science Institute.