Bacterial infection is a major issue in hospitals across the U.K. and is increasing due to its spread on surfaces and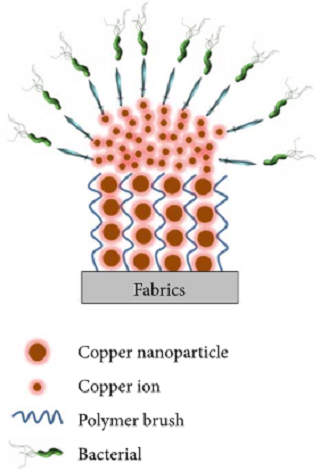 Schematic diagram of copper ions release and antibacterial performance. Source: University of Manchester clothing. A preventative devised by materials scientists at the University of Manchester may soon bring this onslaught of infectious agents to a halt.
Copper, gold and silver have antimicrobial properties and are attracting interest for inclusion in textiles. The researchers focused on copper as the lowest-cost metal of the trio and developed a process for binding copper nanoparticles to cotton and polyester using a polymer brush. The strong chemical bond formed by the Polymer Surface Grafting technique results in excellent washable properties and durability and could pave the way for commercialization of copper-covered uniforms and textiles.
The researchers tested their copper nanoparticles on cotton as it is used more widely than any other natural fiber and polyester as a typical polymeric, manmade material. Each material was brushed with copper nanoparticles in the 1-100 nanometer size range. The coated fabrics displayed significant antibacterial resistance against Staphylococcus aureus (S. aureus) and Escherichia coli (E. coli), even after being washed 30 times. When compared with the traditional process of copper coating, the polymer brush technique proved far more effective.
The research is published in the Journal of Nanomaterials.