NASA's Hybrid-electric Concept Aircraft Could Slash Jetliner Fuel Use by Ten Percent
Eric Olson | February 16, 2018
In the quest for greater fuel efficiency and lower environmental impact, aerospace engineers relentlessly pursue aircraft design innovations. At NASA's Glenn Research Center, researchers are developing a concept aircraft known as STARC-ABL (single-aisle turboelectric aircraft with aft boundary-layer propulsor). Although outwardly similar in appearance to traditional tube-and-wing jetliners, this airplane incorporates new technologies such as electric-enhanced propulsion and a boundary-layer ingesting engine. These advances are aimed at improving fuel efficiency to lower the aircraft's operating cost and reduce emissions.
A key aspect of STARC-ABL's design is its hybrid-electric propulsion system. In this turboelectric design, some of the power generated by the main jet fuel-powered turbofan engines is converted to electricity to drive an electric engine. The electrical power can also be used for an operation of subsystems like avionics, flight controls and de-icing.
Boundary-layer Ingestion (BLI)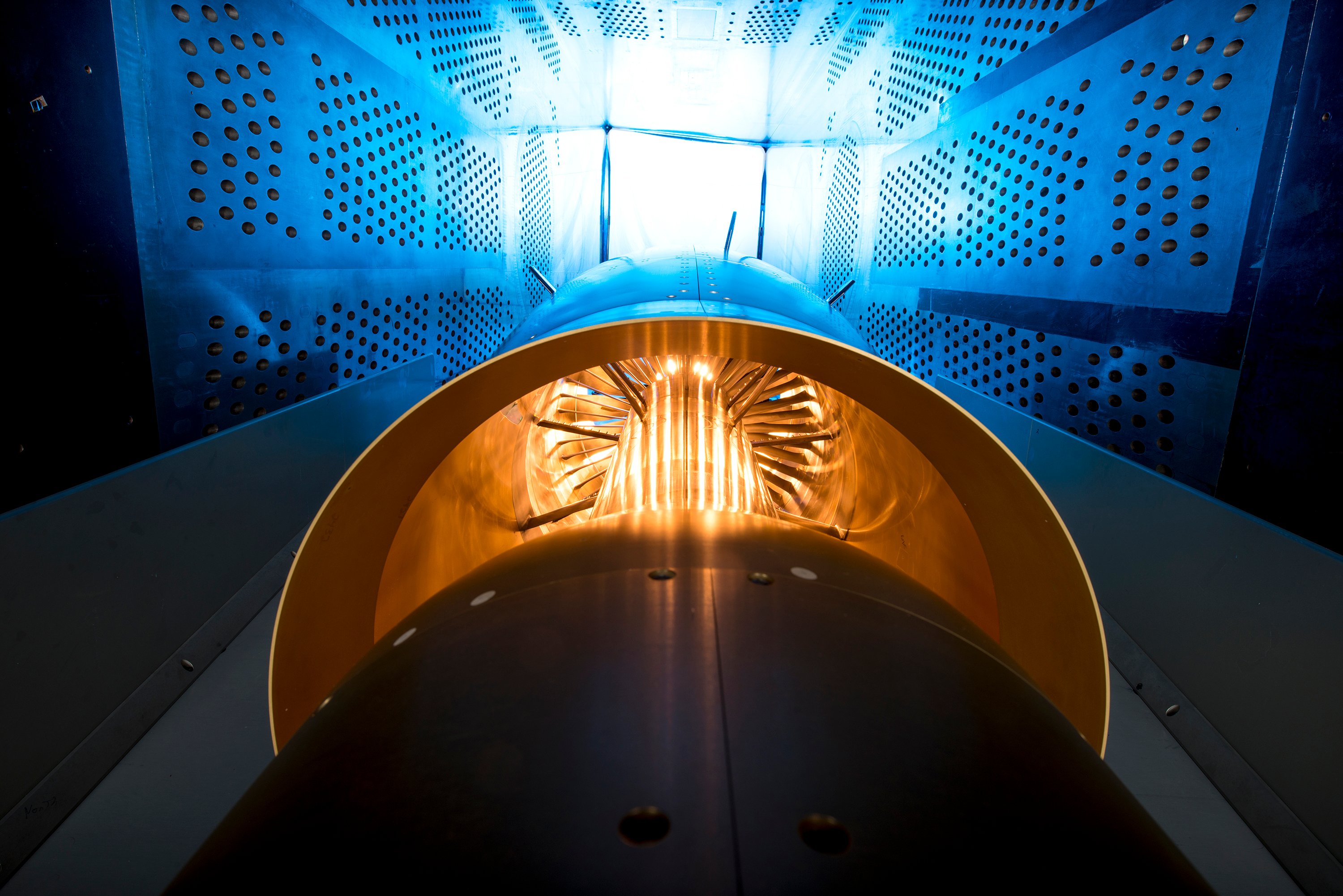 A fan and inlet design exploiting boundary-layer ingestion (BLI) is tested in a wind tunnel at NASA's Glenn Research Center. Credit: NASA
A second design innovation featured on STARC-ABL reduces drag on the plane by optimizing the way it handles an aerodynamic concept known as the boundary layer. On STARC-ABL, the electric engine is mounted on the plane's tail and has a ducted fan which sucks in air flowing over the fuselage and accelerates it out of the back of the aircraft. This concept, known as boundary-layer ingestion (BLI), can improve an aircraft's fuel efficiency.
BLI reduces the total drag a plane experiences in flight. To grasp how, an understanding of the boundary layer over an airplane must be developed.
As a plane flies forward, a layer of slow-moving air grows along the skin of the aircraft. This boundary layer increases in thickness toward the rear of the plane to as much as a foot or more, and induces drag on the aircraft.
If an engine is mounted at the plane's rear with its fan inlet positioned to catch the slow-moving boundary layer air, it can accelerate the flow out the back of the aircraft, reducing the induced drag.
By reducing total drag, an aircraft's engines don't need to produce as much thrust, thereby decreasing fuel burn and emissions.
During takeoff, STARC-ABL's traditional wing-mounted turbofan engines generate 80 percent of the thrust required for flight, with the remaining 20 percent contributed by the rear electric engine. In cruise, the rear propulsor supplies 45 percent of the total thrust. The configuration could result in a predicted 10 percent improvement in fuel consumption for the aircraft.
X-planes
STARC-ABL is being considered as one of NASA's future X-planes. NASA plans to develop this series of experimental planes through its New Aviation Horizons initiative. Equipped with unique propulsion, material, and aerodynamic technologies, these aircraft will exhibit better fuel efficiency, fewer emissions and less noise generation. The X-planes will adopt highly integrated engine systems, advanced materials and unique fuselage and wing shapes.
"I feel we are at a tipping point in commercial aviation," said Jim Heidmann, manager of NASA's Advanced Air Transport Technology Project (AATT), in a news release. "We are exploring and developing game-changing technologies and concepts for aircraft and propulsion systems that can dramatically improve efficiency and reduce environmental impact and accelerate the introduction of new aircraft."
Industry Collaboration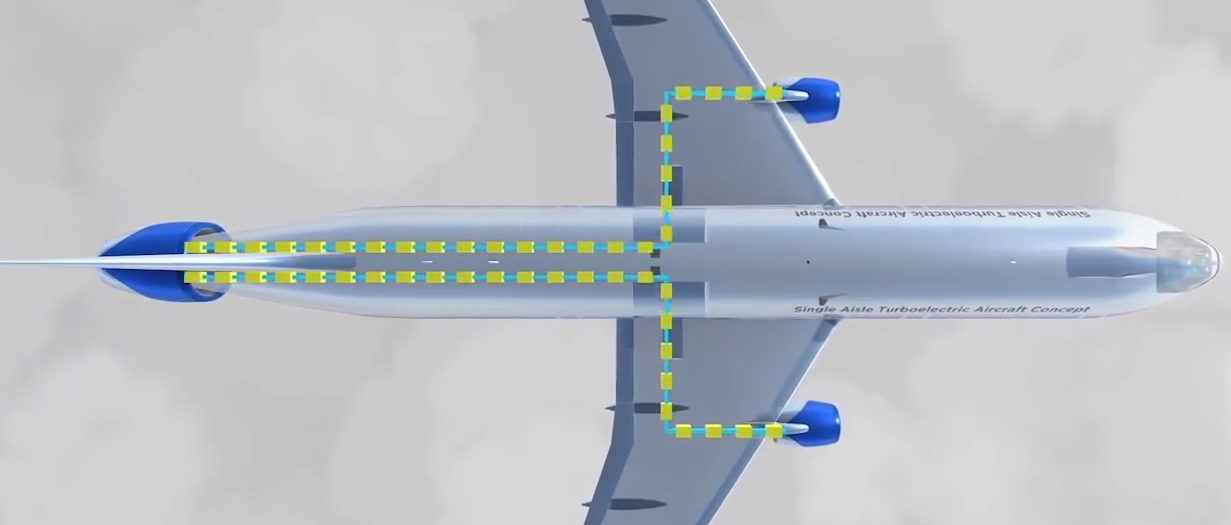 STARC-ABL's hybrid-electric propulsion system converts some of the power generated by the main jet fuel-powered turbofan engines into electricity to drive an electric engine at the rear of the aircraft. Credit: NASA
Initial ground tests of a subscale STARC-ABL prototype will be carried out at NASA's Electric Aircraft Testbed (NEAT) at Plum Brook Station in Sandusky, Ohio. But, the agency also wants to encourage industry and academia to explore hybrid-electric aircraft designs in an attempt to find the best solutions to development challenges like energy storage, additional weight and engine optimization.
NASA recently awarded 12-month contracts to Boeing and Georgia Tech, and Rolls-Royce LibertyWorks and ES Aero to develop single-aisle, 150-seat aircraft with hybrid-electric propulsion technology.
"During the 12-month cycle, we'll work with the teams to take a deep dive into their hybrid and turboelectric aircraft concepts," said Amy Jankovsky, NASA's AATT subproject manager. "These concepts will provide in-depth, detailed analyses of the propulsion and electrical systems, and we will recommend technology development paths for their concepts."
NASA will review results of the industry studies to evaluate performance metrics and identify promising designs for electrical systems and other aircraft subsystems.
"As we move forward, we'd like to further develop the powertrains for these and any other concepts that may prove viable by building and testing them at NEAT and other NASA facilities," said Jankovsky. "We'll identify key performance parameters for components such as motors, generators and power electronics, and any wind tunnel, altitude and other ground tests and flight demonstrations that are appropriate."
NASA is ultimately hoping to spur a transformation in propulsion technologies used by the commercial aviation industry to lower emissions and noise.