A Virtual Biobank to Aid Cancer Researchers
S. Himmelstein | February 15, 2018
The world's first virtual platform to host 3D copies of human cancer tissues is expected to revolutionize the way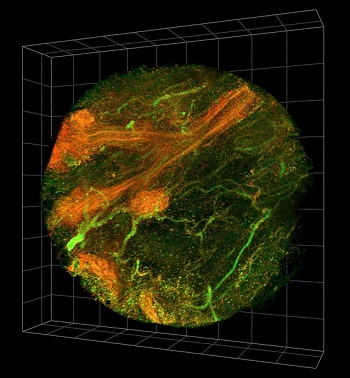 The cell nuclei are pictured here in red and the background structures and fibers are green in a 3D breast cancer biopsy. Source: University of Newcastleresearchers access critical information needed to advance cancer treatment.
The Virtual Biobank, developed by University of Newcastle and Hunter Medical Research Institute scientists in Australia, will digitize and help accelerate the process of accessing vital tissue samples donated by patients, which up until now could only be requested through physical biobanks.
Digital cancer samples in the Virtual Biobank are made up of high resolution microscopy images in both 2D and 3D, and include clinical and molecular information that provides the foundation for virtual research into cancer.
The developers explain that tumor biopsy samples stored at the Hunter Cancer Biobank were converted into a virtual copy, enabling anyone with an internet connection to carry out research from their computers or easily request access to the physical sample needed. The process ensures the physical sample remains intact, but a 3D digital copy with clinical and experimental information is kept online for future use. The first 20 breast cancer samples have been uploaded with accompanying clinical descriptions.