Take a Virtual Ride on World's Largest LEGO Wooden Roller Coaster
S. Himmelstein | February 12, 2018
YouTube enthusiast Tomáš Kašpařík (aka Chairudo), who obviously has a lot of spare time, constructed a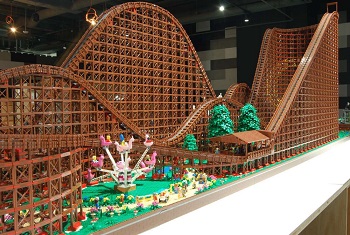 Source: Tomáš Kašparík replica of the world's largest wooden-style roller coaster using LEGOs. The project, which took 800 hours to build, was inspired by El Toro, a wooden coaster at New Jersey's Six Flags Great Adventure.
The LEGO ride is composed of 90,000 bricks and measures 21 feet long, 4 feet wide and 4.5 feet high. The 85 feet of track includes a 4.5-foot dropoff.
The real El Toro roller coaster tops out at 180 feet and held the record for the steepest wooden roller coaster drop of 76 degrees. In 2008, this claim went to the T Express in South Korea, with a 77-degree drop.
Take another turn on the roller coaster. This one is from the passenger's point-of-view.