Video: Cleaner Ship Fuels to Benefit Health & Impact Climate
S. Himmelstein | February 08, 2018
The realization of public health benefits from use of low-sulfur maritime fuels may appear to be an obvious result, but the adverse implications for global warming elucidated by an international team of researchers are not.
An International Maritime Organization (IMO) regulation to be enacted in 2020 requires marine shipping fuels to contain 80 to 86 percent less sulfur. The rule will reduce the allowable amount of sulfur in fuel oil from 3.5 percent to 0.5 percent, a reduction from 35,000 to 5,000 ppm.
The researchers analyzed the impacts of sulfur emitted by ships using current marine fuels, which produce air pollution particles that are small enough to be breathed deeply into the lungs and are considered harmful to human health. A state-of-the-art model of ship traffic based on satellite records determined where ship activity was producing emissions. Another high-resolution model addressed how ship emissions would mix and chemically transform in the atmosphere, how they disperse and how they contribute to air quality where people live.
About 14 million annual cases of childhood asthma are estimated to be related to global ship pollution using current fuels. The change to cleaner ship fuels will reduce ship-related premature mortality and morbidity by 34 percent and 54 percent, respectively, representing a ~ 2.6 percent global reduction in PM2.5 cardiovascular and lung cancer deaths and a ~3.6 percent global reduction in childhood asthma.
But there are climate tradeoffs -- lower sulfur fuels also reduce radiative cooling from ship aerosols by ~80 percent, which will increase the rate of global warming by about three percent.
Scientists from the University of Delaware, Finnish Meteorological Institute, Rochester Institute of Technology in New York and Energy and Environmental Research Associates participated in this research, which is published in Nature Communications.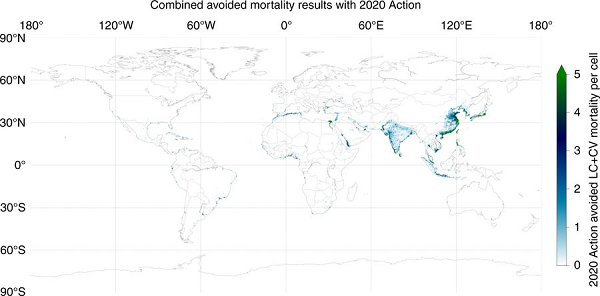 Map of avoided mortality (cardiovascular disease and lung cancer) from reduced ship PM2.5 emissions due to implementation of the International Maritime Organization's low-sulfur fuel standards in 2020. Annual avoided mortality minimum and maximum are 0 and 800, respectively. Source: Nature Communications