Disruptive Innovation Faces An Uphill Battle in Building and Construction
Jonathan Fuller | February 06, 2018
Disruptive innovation has been touted as desirable since its introduction in 1997, when Clayton Christensen introduced it in his book, "The Innovator's Dilemma." By definition, it disrupts existing markets and topples market-leading products and ideas, and disruptive innovation seems to crop up everywhere some two decades after its birth. In the early years of Facebook, the social media mogul's motto was "Move fast and break things." Google's early motto of "Don't be evil" implied that the company could do anything excluding actual evil. Public entrepreneurs like Steve Jobs and Elon Musk are well-known for their paradigm-busting disruptive innovations, many of which have changed life as we know it.
While major markets like transportation and communications have seen significant disruption, the building and construction industry is still waiting for its turn. Since the introduction of hydraulic equipment, personal protective equipment, CAD and prefab buildings in the 20th century, the industry has seen little major innovation. This begs the question: will building and construction ever experience disruption, or is it simply geared toward smaller, incremental developments?
Current Innovations
It's easy to envision building and construction as a dirty, manual-labor-intensive field that simply has less demand for innovation and technology in general. KPMG's 2016 Global Construction Survey — which polled 218 senior executives on major construction projects and from engineering companies — lent some statistical evidence to this picture. Of the survey group, a total of 69 percent said their companies were either industry followers or behind the curve in terms of technology adoption. Only eight percent reported their firm as a "cutting-edge visionary."
In the same survey, however, the responses as to current technology adoption are more promising. As seen in the graph below, over half of survey respondents said they use remote monitoring on their sites, about one-third use RFID technologies to track equipment and materials, and nearly half use drones to monitor construction. Despite lacking a groundbreaking disruptive innovation, the infrastructure industry is clearly embracing new technologies to streamline and enhance their work.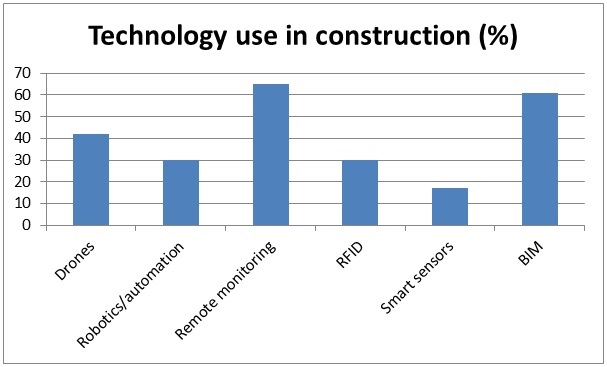 Source: KPMG, 2016
Each of these technologies has had significant benefits for the industry:
Drones can quickly survey building sites, make maps or plan changes. They eliminate the need for expensive, bulky surveying equipment and can fly where surveyors can't get to on foot.
Building information modeling (BIM) has existed for decades and involves generating and managing digital blueprints and plans. The models are used to synchronize coordination between architectural, structural and MEP teams throughout the construction process.
Like BIM, the internet of things (IoT) can be employed to make construction more efficient. Seamlessly integrated sensors in heavy construction equipment, for example, ensure that contractors catch mechanical problems early and perform predictive maintenance before the machine fails. Many construction projects use prefabricated parts, which can be complex to coordinate. Project owners can use RFID data fed into a BIM system to render a structure's progress in real time.
3D Printing: The Most Disruptive Innovation (So Far)
3D printing likely has the most disruptive potential in building and construction. 3D printers work with a variety of construction materials and independently of human operators, both of which are boons for the industry. With the advent of 3D printing, industry stakeholders pointed to the possibility of 3D-printed prefab components, but they are now imagining more disruptive involvement that includes printing structures in-situ from the ground up.
A number of companies are at work on this vision. Dutch firm MX3D has been 3D-printing a steel bridge across the Oudezijds Achterburgwal canal in Amsterdam since May 2017. MX3D is printing large sections of the bridge and will robotically weld them in place to complete the bridge. Construction will likely wrap up in late 2018.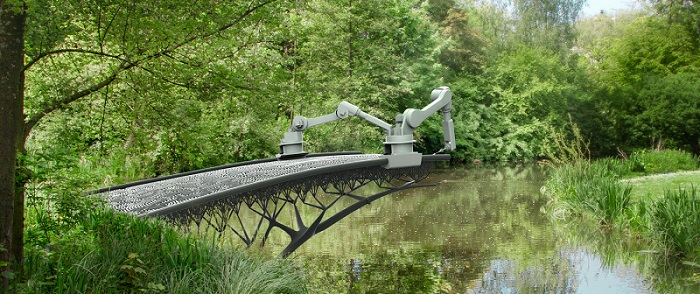 An artist's rendition of a 3D-printed bridge. Source: MX3D
Contour crafting is also a lead horse in the race to disrupt building and construction. This is a type of 3D printing that uses a large computer-controlled gantry to print an entire structure. Contour crafting employs a quick-setting form of concrete to build layer-by-layer, incorporating internal components like structural members, plumbing and electrical from the ground up.
This approach has major advantages for the industry. The average U.S. home can take up to a year to build, but contour crafting systems have recently printed entire houses in 24-48 hours. If this timeframe were to become the norm, financing and costs would be slashed. It would also eliminate material waste and significantly reduce manual labor (as well as related injuries on dangerous construction sites). Contour crafting advocates envision a future where people could design their own home using software, rent a contour crafting system at a home-improvement store and custom-print their own home in a matter of days.
While this may seem far-fetched, contour crafting 3D printers may soon see commercial use. Dr. Berokh Khoshnevis is the inventor of contour crafting, dean's professor of engineering at the University of Southern California and president and CEO of Contour Crafting Corp. Dr. Khoshnevis told Engineering360 that his company will likely be rolling out a commercial contour crafting 3D printer later this year and is aiming to perform a large-scale demonstration as part of the Dubai Future Accelerators program. Dubai is becoming a leader in 3D printed buildings: Dubai Municipality is aiming to implement 3D printing in 25 percent of the emirate's buildings by 2030.
Khoshnevis aims to use his innovative printing technology for low-income housing or disaster relief first. A technology capable of printing a structure in 24 hours would make an enormous impact in the wake of a hurricane or earthquake, when thousands are rendered homeless.
Industry Spotlight — Is Disruption in Building and Construction More Difficult?
As a 3D printing pioneer, Berokh Khoshnevis believes innovators looking to disrupt the construction industry face an uphill battle. The industry is highly regulated, with multiple levels of building codes and safety regulations, and stakeholders tend to be wary of fast-moving, disruptive innovation.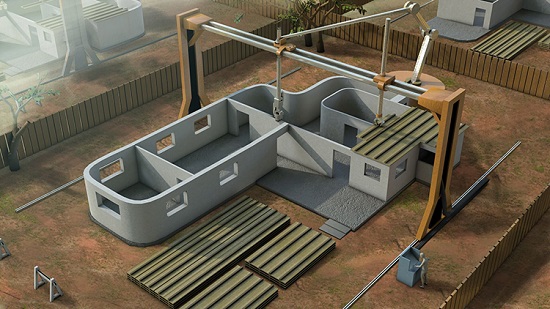 The contour crafting system developed by Dr. Khoshnevis. Source: Contour Crafting Corp."Not too many investors are willing to risk their money in the conservative construction field," he said in an interview with Engineering360. "It's a field where full-scale demonstration is problematic without having building permits — it's kind of a Catch-22. Not many investors are willing to invest funds on the basis of prototypes and ideas in construction."
"It's going to be an uphill battle but my hope is that we eventually will learn how this technology will prevail by making a few demonstrations," Khoshnevis continued. "Not just building a single building, but serious communities with a large number of buildings, showing the economic advantage and safety. It's going to take some time."
"And conditions are not always ready for disruptive technologies. Jet engines took 40 years before commercial airliners adopted them. Telephones at the time of the telegraph sounded like a slam-dunk invention, but it took over 15 years before they were commercially utilized. [3D printing] is not going to be an exception."
Still, statistics from the KPMG report point to an industry embracing technology to streamline processes and improve safety and efficiency. In the U.K., for example, the Infrastructure Industry Innovation Platform (I3P) launched in October to foster innovation in the construction industry. As of February 6, the community consists of 10 client organizations and 15 of their supply chain partners, all of whom can use it to "turn ideas into opportunities" and promote collaborative innovation.
But an industry involving huge structures governed by strict regulations poses a problem for the "Move fast and break things" ethos of disruptive innovation. Khoshnevis points out that in building and construction, innovators must go big from the very start to gain any foothold.
"Unfortunately, in construction prototypes mean nothing — you can't just build a prototype building for the sake of seeing how it looks," he said. "Architects make small scale models, but building them at full-scale doesn't make sense — it's just too expensive. We have to basically have a very final approved viable product, or nothing at all. There's nothing in between, and that makes the jump very hard."
"There is no progressive pathway to the market in construction — it's a very discrete path. You have to make that huge jump from the very beginning."