Demonstration and Commercialization of Thermal Crude to Chemicals (TC2C™) Technology
Shawn Martin | February 05, 2018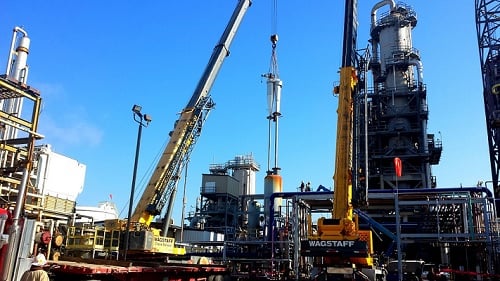 Saudi Aramco signed a three-party Joint Development Agreement (JDA) with CB&I and Chevron Lummus Global (CLG) to scale up and commercialize their Thermal Crude to Chemicals (TC2C™) technology.
The innovative technology enables higher chemical yield than previously achievable. It also bypasses conventional refining steps by employing a direct conversion process and complements Saudi Aramco's crude-to-chemicals conventional projects. Together, these technologies enable and accelerate the growth of Saudi Aramco's Chemicals business.
Saudi Aramco President and CEO Amin H. Nasser said, "Saudi Aramco is going beyond the quick wins and is instead prioritizing investments in groundbreaking R&D and technology. Today's Joint Development Agreement with CB&I and CLG is a technological first which will position Saudi Aramco to maximize the value of each barrel of crude oil it produces in the near future. This is a further opportunity for Saudi Aramco to contribute to the development of a stronger, more diversified Saudi economy, one that creates high-value employment opportunities for young Saudis in a further realization of Vision 2030 objectives."
TC2C™ technology was developed at Saudi Aramco Technologies Research & Development Center. They invested approximately $40 million in the JDA and commercialization is scheduled for 2020. The move helps diversify Saudi Aramco's operations by increasing its role in downstream operations with 70 to 80 percent of future crude intake expected to be converted into chemicals.