Researchers Turn to Horizontal Forces in Earthquake-proof Design
David Wagman | February 02, 2018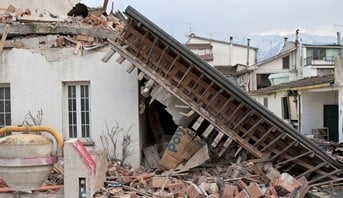 Research into seismic building safety traditionally has focused on walls and braces.
Researchers are working to develop buildings that will not collapse under the force of major earthquakes.
A team led by the University of Arizona is turning its attention from vertical to horizontal transfer of forces by examining steel collectors. These reinforcements in concrete floor slabs, or in beams below them, are responsible for horizontally transferring earthquake forces.
Research into seismic building safety traditionally has focused on walls and braces. These form a downward load path to transfer seismic forces through a building's foundation and into the ground.
"You can't out-strength an earthquake, so you actually put fuses — the equivalent of a fuse in your fuse box, a structural fuse — in your frame or wall," says Robert Fleischman, professor of civil engineering and engineering mechanics.
The network of structural fuses is responsible for vertical force transfer. But, researchers say these forces cannot be transferred vertically from walls and braces to the earth unless the steel collectors first transfer those forces horizontally from the floor to the fuses in the walls and braces.
This is the third collaboration for researchers, which includes Lehigh University and the University of California, San Diego. The first project, completed in 2010, developed safe designs for floor diaphragms in precast concrete buildings, and it led to changes in the federal building code.
The second project examined how to connect floors and walls in a way that lets them separate slightly during an earthquake rather than build up large forces. The research resulted in a new method for designing earthquake-resistant buildings.
Lehigh has one of the largest structures labs in the United States, and UCSD is home to an outdoor shake table. The shake table, with a movable platform driven by pressurized oil, simulates earthquake conditions on structures.
The shake table test will either confirm the validity of researchers' models or help the team calibrate future models.