Inaugural Launch of SpaceX's Falcon Heavy Will Fling a Sports Car Past Mars
Eric Olson | February 01, 2018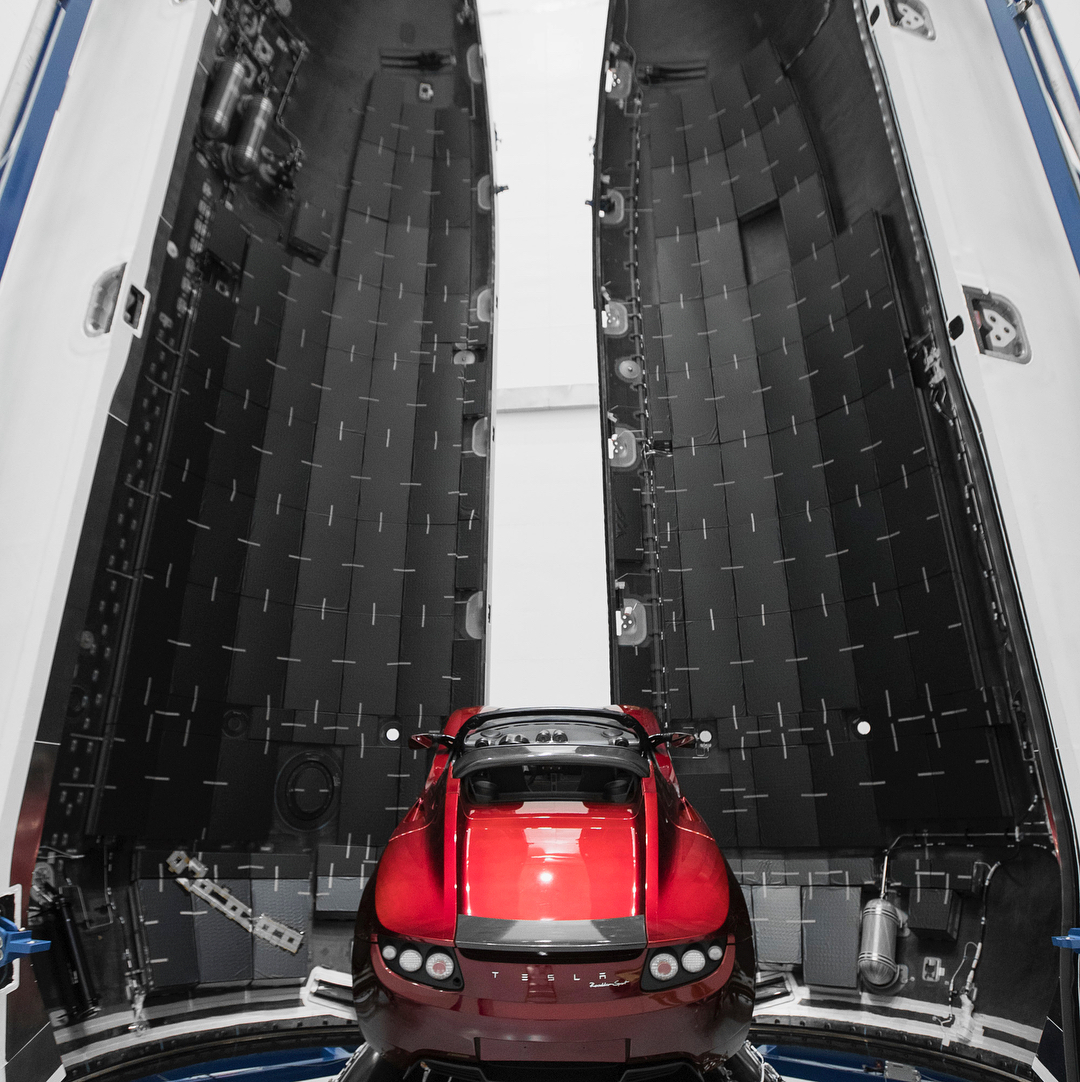 Elon Musk's Tesla Roadster will serve as the test launch's mass simulator, packed in Falcon Heavy's composite payload fairing. Source: Elon Musk/Instagram
The first test launch of Falcon Heavy, the largest American rocket since the Saturn V booster that took astronauts to the moon, is scheduled for February 6 from Kennedy Space Center's Launch Complex 39A (LC-39A). A 3-hour launch window beginning at 1:30 p.m. is expected, with a backup the following day should bad weather or unforeseen circumstances delay the launch.
The inaugural Falcon Heavy launch is meant to verify and validate the rocket's functionality, so it will not be carrying a commercial payload into orbit. Instead, packed into the rocket's composite payload fairing will be SpaceX CEO Elon Musk's own personal red Tesla Roadster sports car, which will be boosted into a heliocentric orbit on a trajectory past Mars.
Musk has warned that the launch is a test and may not be successful.
"There's a real good chance that vehicle does not make it to orbit. I want to make sure and set expectations accordingly," he said during an interview last July at the International Space Station Research and Development Conference.
Successful or not, the launch is sure to provide a spectacle.
"Excitement on launch day guaranteed, one way or another," Musk posted on Instagram in January.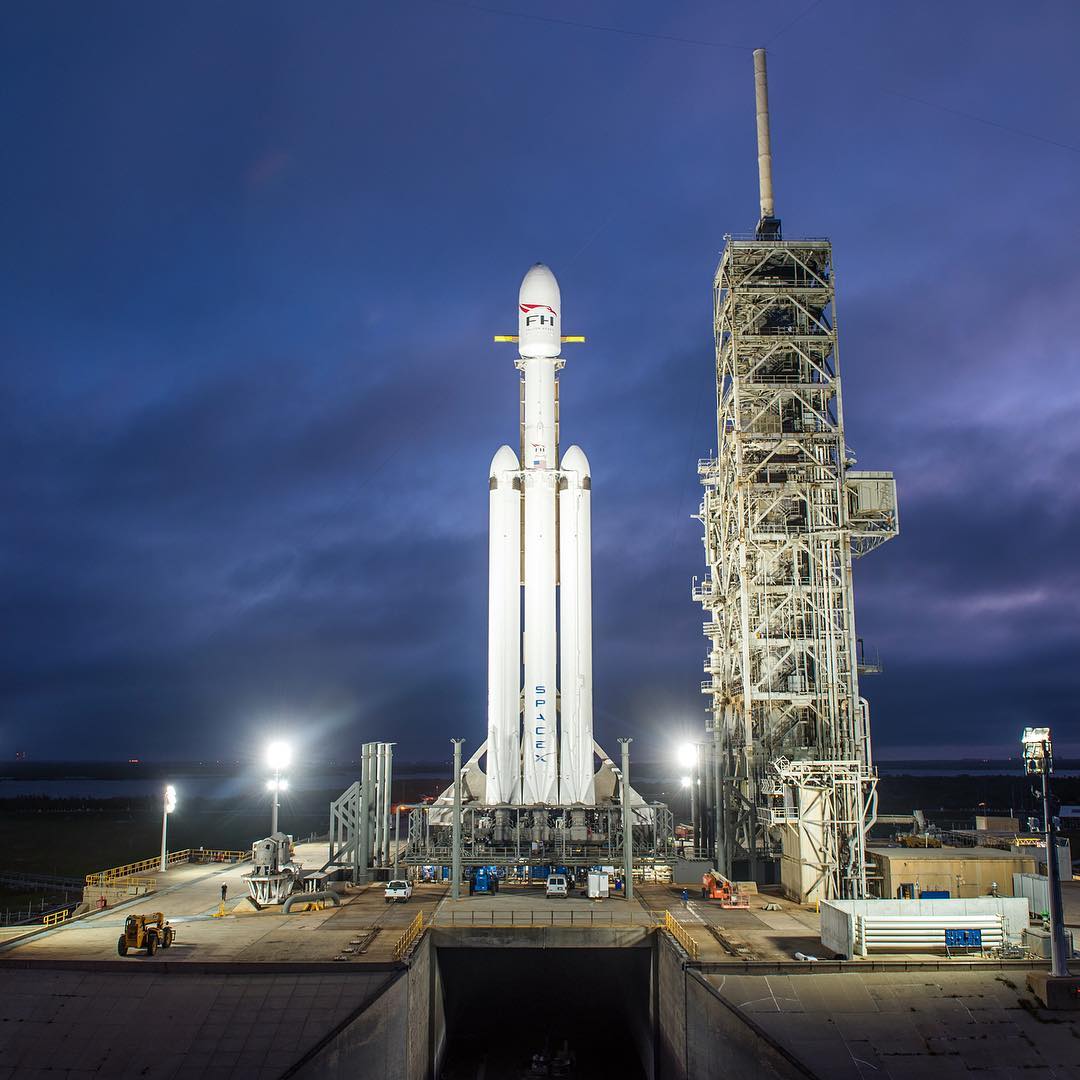 Falcon Heavy on the launch pad at Kennedy Space Center's Launch Complex 39A (LC-39A). Source: Elon Musk/Instagram
Falcon Heavy is comprised of three Falcon 9 cores, with two side boosters attached to a central core and a total of 27 Merlin 1D engines evenly distributed between the rocket's first stage. Standing more than 229 feet (70 meters) tall, the rocket weighs more than 3.1 million pounds (140,000 kilonewtons) fully fueled and generates more than 5.1 million pounds (230,000 kilonewtons) of thrust at sea level. It can boost a mass of more than 119,000 pounds (54 metric tons) into orbit.
Observers will be interested in sticking around after launch. Several minutes after liftoff a recovery of all three cores will be attempted so that they can be refurbished and reused. Following launch, the side boosters will detach from the center core and attempt to land vertically at Cape Canaveral Air Force Station. After ascending higher and separating from the second stage, the main core will attempt a vertical landing on the autonomous spaceport drone ship, Of Course I Still Love You, in the Atlantic Ocean. One Merlin engine will then power the second stage carrying the Tesla Roadster to its final orbit toward Mars.
SpaceX has been busy verifying the proper operation of Falcon Heavy's systems after rolling the rocket out to the launch pad at LC-39A on Dec. 28. The company conducted a fueling test, loading the rocket's tanks with propellants on Jan. 20. On Jan. 24, SpaceX successfully completed a static hold-down fire test of the launch vehicle on the pad, in which all of the rocket's first stage engines were briefly fired.
The Kennedy Space Center Visitor Complex is selling viewing packages for the launch. For $195, spectators can enjoy a premium catered meal including champagne and a commemorative champagne glass keepsake while watching the liftoff from the Apollo/Saturn V Center, located 3.9 miles (6.27 kilometers) from the launch pad.
$115 will grant access to the Space Shuttle Atlantis north lawn 7.5 miles (12 km) from the launch pad as well as a buffet meal and launch party. At the same distance from the launch pad, the Kennedy Space Center will be open for viewing the launch at a cost of $75. Tickets for $35 are also available at the ATX Center 12 miles (19 km) from the launch pad.