Qantas 787 Flies From LA to Melbourne Using Mustard Seed Biofuel
Jonathan Fuller | January 29, 2018
A Qantas 787 Dreamliner using a mustard seed-based blended biofuel took off from Los Angeles on Monday. Ten percent of Qantas Flight 96's fuel supply was a biofuel derived from Brassica carinata, a non-food mustard seed.
According to a Qantas press release, the use of 24,000 kg of blended biofuel on Flight 96 saved 18,000 kg in carbon emissions and reduced emissions by seven percent compared to a conventional flight. The biofuel was developed by Agrisoma Biosciences, a Canadian agricultural technology company.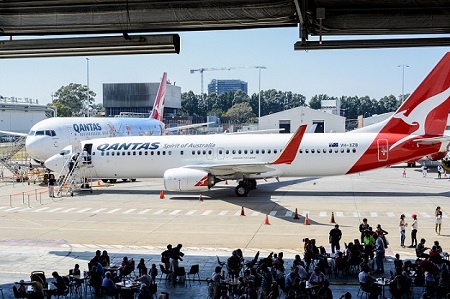 A Qantas 737 (foreground) and 787 (background) in Sydney. Source: Jetstar Airways / CC BY-SA 2.0"The Qantas Dreamliner marks an exciting new era of innovation and travel. The aircraft is more fuel efficient and generates fewer greenhouse emissions than similarly sized-aircraft and today's flight will see a further reduction on this route," said Qantas International CEO Alison Webster. "Our partnership with Agrisoma marks a big step in the development of a renewable jet fuel industry in Australia — it is a project we are really proud to be part of as we look at ways to reduce carbon emissions across our operations."
Using mustard seed-based fuel has a number of benefits for both emissions reduction and its later processing into animal feed.
"Biojet fuel made from Carinata delivers both oil for biofuel and protein for animal nutrition while also enhancing the soil it's grown in," said Agrisoma CEO Steve Fabijanski. "We are excited about the potential of the crop in Australia and look forward to working with local farmers and Qantas to develop a clean energy source for the local aviation industry."
Qantas announced last October that all of its Los Angeles-based aircraft will be powered by biofuel after 2020 in an effort to reduce emissions on its U.S. to Australia flights. The company first trialed biofuel flights in 2012.
The pioneering biofuel flight comes weeks after Qantas ranked worst for fuel efficiency in a list of 20 airlines operating in the Pacific. The report, Transpacific Airline Fuel Efficiency Ranking, was published by the International Council on Clean Transportation on January 16.