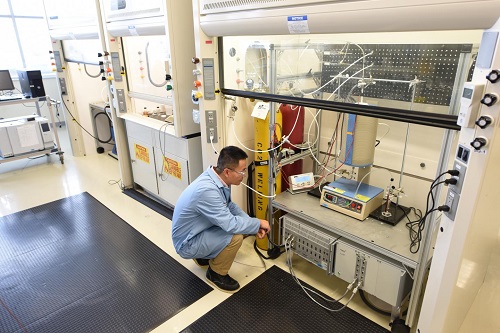 Scientists work on developing a direct carbon powered fuel cell. Source: Idaho National LaboratoryResearchers at the Idaho National Laboratory have created a new fuel cell design that runs completely on solid carbon.
The new technology could allow electricity generation from resources such as coal and biomass to be not just cleaner but more efficient. The fuel cell is made of three components: the anode, the electrolyte and the fuel. Researchers say this allows the fuel cell to use about three times as much carbon as earlier direct carbon fuel cell (DCFC) designs.
DCFCs are different from hydrogen fuel cells in that they can use any number of carbon-based resources for fuel such as coal, tar, coke, biomass and organic waste. Hydrogen cells generate electricity from the chemical reaction of pure hydrogen and oxygen. The Idaho National Laboratory fuel cells operate at lower temperatures and have a higher maximum power density than previously developed DCFCs.
Researchers say DCFCs are potentially more efficient than conventional hydrogen fuel cells because they use easily available fuels and they don't require the energy-intensive step of producing hydrogen. However, earlier DCFC designs required high temperatures which meant the construction of expensive materials in order to handle the heat.
How They Did It
By designing a true direct carbon fuel cell it can operate at lower temperatures (below 600 degrees Celsius) and the electrolyte used allows for the finely ground solid carbon materials to maintain their performance under lower temperatures. The team was able to increase carbon utilization by developing a 3D ceramic textile anode that interlaces bundles of fibers together like a piece of cloth. The fibers are hollow and porous, which combine to maximize the amount of surface area that's available for a chemical reaction with the carbon fuel.
The last step was to develop a composite fuel made from solid carbon and carbonate. The composites become fluidlike at operating temperature and carry the solid carbon into the hollow fibers and the pinholes of the anode, which increases the power density of the fuel cell. The result is a fuel cell that looks like a green, ceramic watch battery about the size of a piece of construction paper, roughy 10 centimeters on each side. The fuel cells can then be stacked on top of one another depending on the application, researchers say.
The next steps is working with energy organizations and other vendors to apply the fuel cells in actual real applications.
The full research can be found in the journal Advanced Materials.