AirSpaceX Reveals Sub-Scale Model of its Electric Air Taxi
Eric Olson | January 22, 2018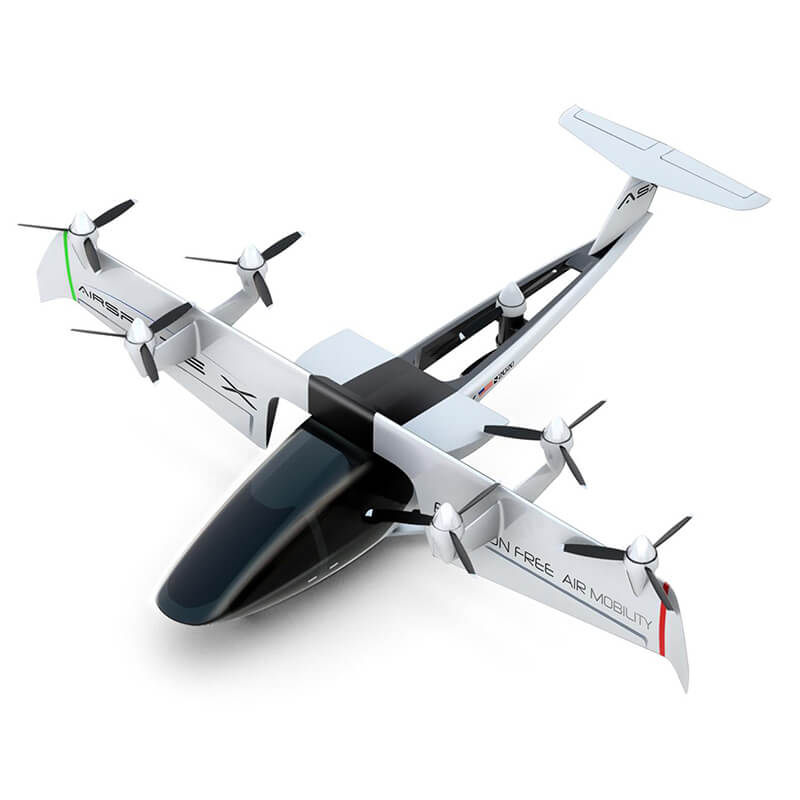 MOBi-ONE has a range of 65 miles (104 km) and is capable of flying at speeds up to 250 mph (402 km/h). Source: AirSpaceX
The MOBi-ONE electric vertical take-off and landing (eVTOL) aircraft was revealed at the North American International Auto Show (NAIAS) in Detroit. Source: AirSpaceX
In the growing arena of contenders vying to serve a future urban air taxi industry, a new competitor has entered the ring. The MOBi-ONE electric vertical takeoff and landing (eVTOL) aircraft was revealed by AirSpaceX, a subsidiary of Detroit Aircraft Corp. (DAC), at the North American International Auto Show (NAIAS) in Detroit.
Designed to ferry passengers or cargo between cities, suburbs, and airports, the company hopes its vehicle will help address the intractable problem of traffic gridlock. In 2017, U.S. drivers spent $300 billion in wasted fuel and productivity due to gridlocked traffic, pouring 38 billion pounds of carbon emissions into the atmosphere.
"There is an urgent need for innovation in urban mobility, and I believe on-demand air mobility will go a long way toward reducing pressure on roads while improving the quality of life for commuters on the ground," said Jon Rimanelli, founder and CEO of Detroit Aircraft and AirSpaceX, in a press release.
As a VTOL aircraft, MOBi-ONE has a tiltrotor configuration with a set of propellers arranged along a tilting wing. The wing is angled vertically to allow the vehicle to take off and land like a helicopter before tipping back to a horizontal plane for cruise flight.
Capable of flying at speeds up to 250 miles per hour (402 kilometers per hour), MOBi-ONE will normally cruise at 150 mph (241 km/h with a range of 65 miles, or 104 km). Flight control will be fully autonomous with optional pilot assistance.
The aircraft is designed to minimize noise generation. Its distributed electric propulsion system is powered by a single motor no louder than a UPS truck designed to be inspected every 100 hours of flight and replaced every 8,000.
MOBi-ONE will be capable of carrying between two and four passengers in its cabin or more than 440 pounds (200 kg) of cargo. In addition to passenger and cargo transport, the vehicle has potential tactical ISR, research, MED-EVAC, and CAS-EVAC applications.
The sub-scale model revealed at the auto show is the culmination of a number of prototype designs created by Rimanelli and Camilo Pardo, chief designer of the 2005 and 2006 Ford GT. The pair began working on VTOL concepts in 2011.
"The evolution of these prototypes culminated in an iconic design with the MOBi-ONE. We wanted to create an aircraft with a unique appearance that stands alone and also reflects its function," said Pardo.
Once engineering on the MOBi-ONE is complete, a full-size vehicle will be assembled and undergo FAA Part 27 Airworthiness Certification for rotorcraft.
AirSpaceX plans to have a demonstration vehicle ready by 2020 and roll out the aircraft more broadly by 2026.
"Our goal is to deploy 2,500 aircraft at the nation's 50 largest cities by 2026, targeting existing infrastructure at first," said JP Yorro, Chief Commercial Officer at AirSpaceX.
The company is exploring financing options for the project. "The MOBi development program will be capital intensive, but air Mobility as a Service could generate billions for the economy," said Yorro. "We are considering a broad array of financing options, including potential fractional ownership interest and profit sharing models."
The video above shows a second model with a detachable payload planned for 2025. That model would allow the passenger- or cargo-carrying payload module to detach from the propeller-equipped flight module and connect to a wheeled ground module for transport along roads.
AirSpaceX isn't the only company pursuing air taxis as a new mode of transportation. Bell Helicopter recently revealed its own air taxi concept. Bell is one of several firms that ride-sharing firm Uber is collaborating with to create a network of on-demand flying taxis. Aerospace companies Embraer, Mooney, Pipistrel Aircraft, and Aurora Flight Sciences are also working on vehicle designs. Uber plans to launch its UberAIR eVTOL service in Dallas-Fort Worth and Dubai. The company is consulting with real estate firm Hilwood Properties to locate sites for vertiports where air taxis can take off and land. Electric charging company ChargePoint is developing rapid charging stations for the air vehicles.