After a four-year work stoppage, mining operations have resumed at the U.S. Department of Energy's Waste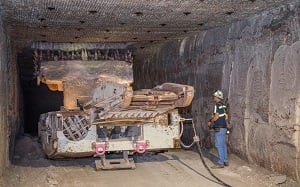 WIPP's continuous mining machine resumes operations. Source: U.S. Department of EnergyIsolation Pilot Plant (WIPP) in New Mexico, the nation's only repository for transuranic waste disposal.
The repository's operations were suspended in 2013 following a fire in an underground vehicle, and, several days later, a non-related radiological event when a waste drum ruptured. Waste emplacement resumed in January 2017 following extensive investigations and the implementation of a stepwise recovery plan to mitigate the source of the contamination, restore the necessary conditions to support operations and incorporate lessons learned from the incidents. This led to the installation of new permanent ventilation and a new exhaust shaft.
A continuous mining machine has begun cutting into panel 8 of the underground salt formation. This phase is scheduled for completion in 2020, by which time more than 112,000 tons of salt will be removed. The panel will contain seven disposal rooms for waste emplacement; each disposal room is 300-feet long, 33-feet wide and 13-feet high.
Panels are mined slightly larger than the desired size to account for the natural movement of salt, which causes mined openings to close. This is the salt rock behavior that will eventually permanently encapsulate the waste.