Improved Traffic Signal Management Could Cut Greenhouse Gas Emissions
Engineering360 News Desk | April 01, 2015
A study from the Massachusetts Institute of Technology (MIT) says that better programming of a city's traffic light could reduce delays, improve efficiency and reduce vehicle emissions.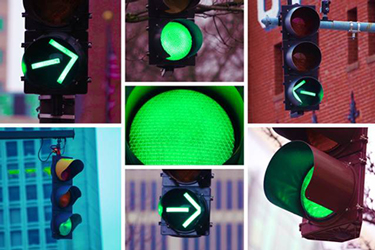 Better traffic signal programming can lessen delays, improve efficiency and decrease emissions. Source: MITCarolina Osorio, an assistant professor of Civil and Environmental Engineering, and alumna Kanchana Nanduri describe a method of combining vehicle-level data with less precise—but more comprehensive—city-level data on traffic patterns to provide improved information. Osorio and Nanduri used simulations of traffic in the Swiss city of Lausanne, modeling 17 key intersections and 12,000 vehicles.
"What we do is develop algorithms that allow major transportation agencies to use high-resolution models of traffic to solve optimization problems," says Osorio.
The researchers say that current models are not sophisticated enough to take more complex traffic interactions into account, and they also do not assess the mix of vehicles on the road at a given time. As a result, models are unable to predict how changes in traffic flow may affect overall fuel consumption and emissions.
"With such complicated models, we had been lacking algorithms to show how to use the models to decide how to change patterns of traffic lights," Osorio says. "We came up with a solution that would lead to improved travel times across the entire city."