Sponsored content
For most people the technical details about bolts extend to little more than their dimensions and the aisle they're found in at Home Depot. But for those who use them in demanding applications like the oil and gas industry and construction there is more to be considered. These folks are the connoisseurs of fasteners, who keep up with standards from ASTM and other publishers and ask which method for creating threads — cut threading and roll threading — results in the best product. The quick answer is that they can both produce quality threads, but it helps to understand their differences.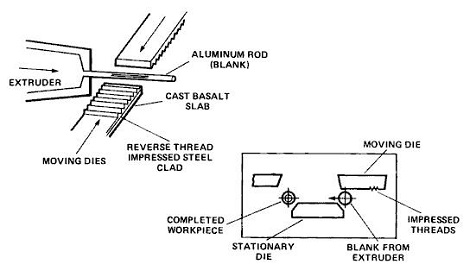 The roll threading process.There are a variety of ways to create the threads of a fastener, but the most common by far are the cutting and rolling methods. The primary difference between the two is that cut threading removes metal from a round bar stock to create the spiraled pattern while the rolling process displaces the metal on the bar from its original position but does not remove it. In the cutting process, the round metal bar is placed on a lathe and as it rotates a cutting die creates the threads. The roll threading process is performed by pressing (extruding) hardened steel "rolling dies" into the rotating bar, reforming the surface into threads.
The threads on most bolts are created by roll threading, although cut-threaded bolts are also common and even required for some special applications. To learn more, visit http://www.globalspec.com/BayouCityBolt/ref/ExaminingBoltThreading.pdf.