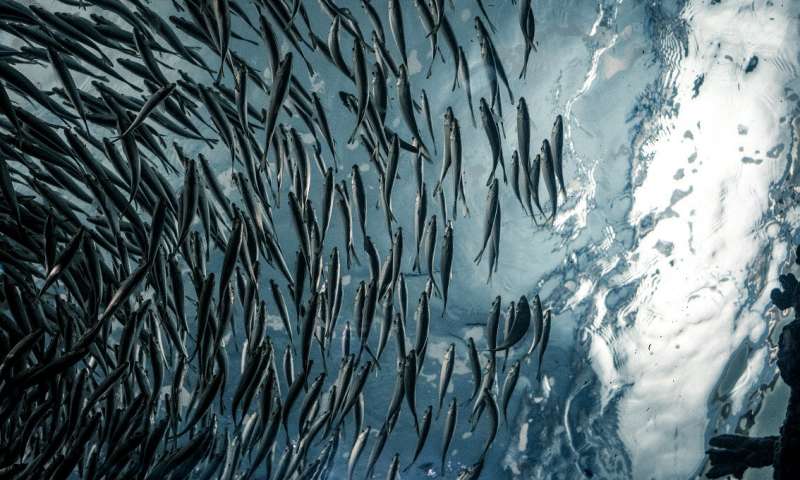 Reduced energy flow means that the amount of food available for predators, such as fish, at the top of food webs is reduced, with potential consequences for fisheries species. Source: Lance Anderson, Unsplash. Levels of commercial fish stocks could face significant reductions as rising sea temperatures threaten their food sources, according to research from the University of Adelaide.
Publishing their work in the open-access journal PLOS Biology, scientists demonstrated the role of climate change in collapsing marine "food webs."
Scientists showed that along with the increased ocean temperatures came a reduction in the vital flow of energy from food producers at the bottom (algae) to herbivores, and eventually, to the predators at the top of the food webs — suggesting a potential decrease in food availability for predators and thus others included within these food webs.
"Healthy food webs are important for maintenance of species diversity and provide a source of income and food for millions of people worldwide," said the study's lead author PhD student, Hadayet Ullah. "Therefore, it is important to understand how climate change is altering marine food webs in the near future."
Using twelve 1,600-liter tanks designed to imitate the predicted conditions of increased ocean temperature and the acidity from increasing human greenhouse gas emissions, the scientists observed the impact of the conditions on species such as algae, shrimp, snails, fish and sponges for six months.
During that period, the scientists observed the mini-food web for details concerning survival, growth, biomass and productivity of all the plants and animals. Scientists then used the information to create a sophisticated food web model.
"Whilst climate change increased the productivity of plants, this was mainly due to an expansion of cyanobacteria (small blue-green algae)," said Mr. Ullah. "This increased primary productivity does not support food webs, however, because these cyanobacteria are largely unpalatable and they are not consumed by herbivores."
The need to understand how ecosystems function in the face of climate change is vital, according to researchers. Current research only involves simple, short-term experiments focused on only one or a few species.
"If we are to adequately forecast the impacts of climate change on ocean food webs and fisheries productivity, we need more complex and realistic approaches, that provide more reliable data for sophisticated food web models," said project leader Professor Nagelkerken.
For more on the research, click here.