Bell Helicopter Unveils Urban Flying Taxi
Eric Olson | January 09, 2018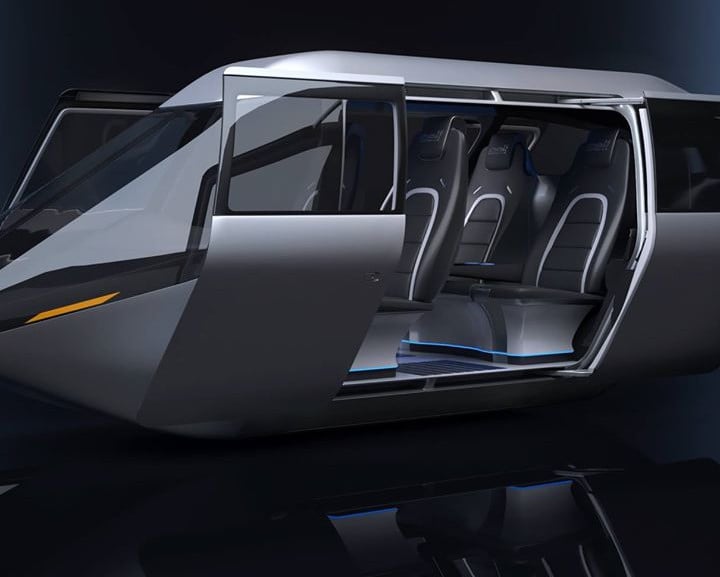 The cabin is outfitted with four leather seats. Source: Bell Helicopter
Getting stuck in traffic gridlock is not only an annoyance, but a productivity killer. At CES 2018, Bell Helicopter unveiled its concept for an electric-powered, on-demand, urban air taxi that will allow passengers to skip the traffic jams on the ground and cruise to their destination through the air in connected comfort.
With space for a pilot, three passengers and their luggage, the flying taxi promises to cut travel times compared to ground-based options.
The cabin's design emphasizes comfort and connectivity. With leather seats and cup holders, passengers can relax and enjoy the ride. Or they can utilize an array of technologies to make the most of their short commute.
The vehicle sports a curved dashboard that arcs across the front of the cabin, presenting passengers with several displays. Riders can make use of video conferencing capabilities, pull up real-time traffic updates, catch up on the latest news, or check email with the taxi's Wi-Fi connectivity. Wireless charging and Bluetooth audio are also included. Touch screens are embedded in the front seat headrests to keep passengers in the rear entertained.
Only the cabin design was revealed. The propulsion system, including rotors and powertrain, will be shown sometime in the future.
The company is showcasing the concept from January 9-12 at CES in the Las Vegas Convention Center's North Hall. In booth 8523, attendees can sit in a full-size model of the air taxi and don a pair of augmented reality goggles to experience the vehicle in operation on both day and night trips across the city.
Bell is no stranger to pushing the envelope of rotorcraft designs. It developed the world's first production tiltrotor aircraft with the V-22 Osprey and is working on a successor in the V-280 Valor.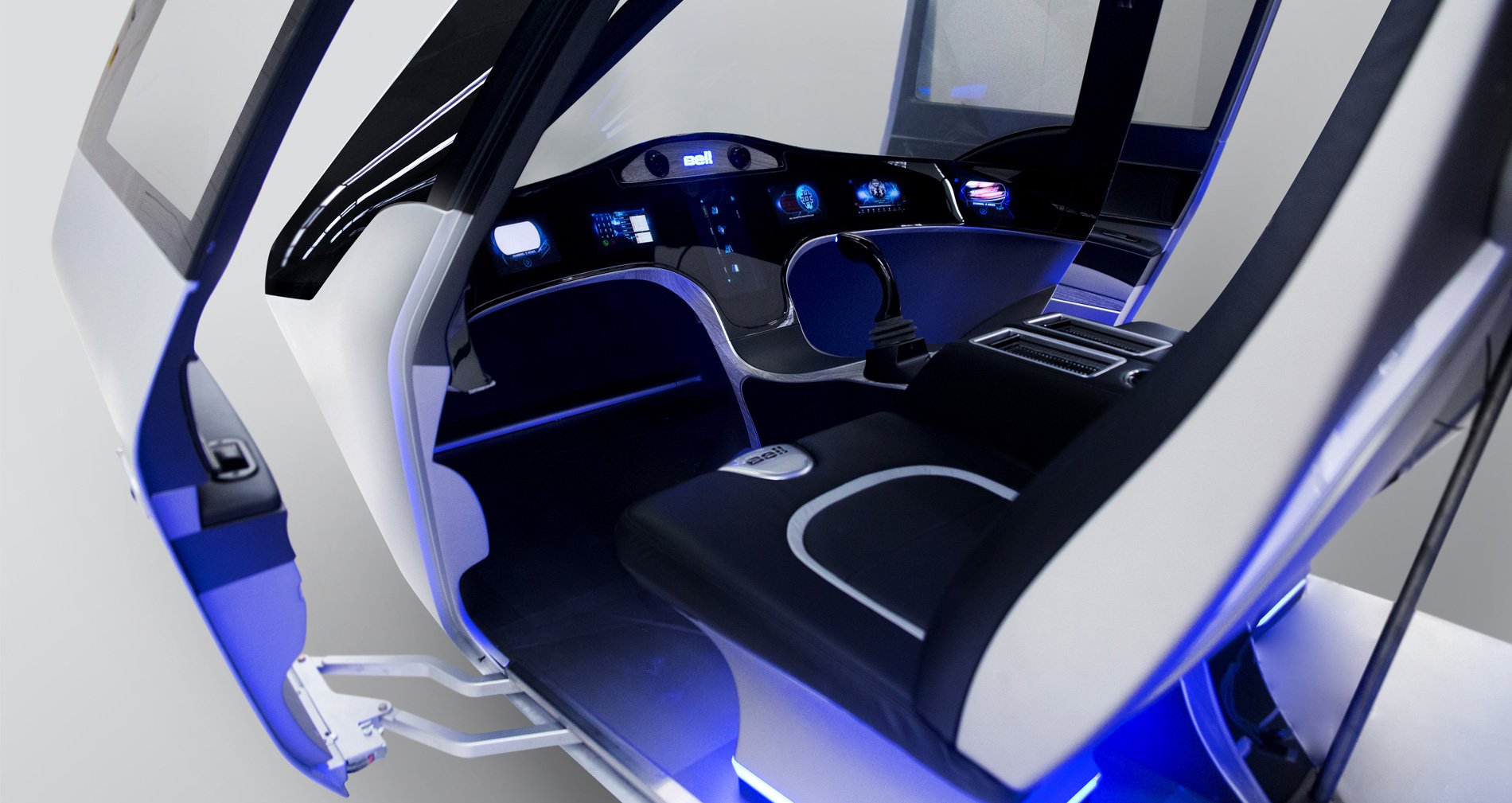 A view of the cabin's interior showing a front seat and dashboard. Source: Bell HelicopterBell's FCX-001 concept helicopter revealed last year contains a number of advanced technologies. The FCX-001 featured a hybrid thermal-electric propulsion system, a new anti-torque system embedded in the tail, morphing rotor blades and a modular flooring system for rapid changes in seating configuration.
Bell envisions the FCX-001 having a virtual cockpit with artificial intelligence computer assistance and augmented reality displays to aid the pilot in controlling the helicopter. The company sees this functionality as a step toward fully autonomous, unpiloted vertical takeoff and landing (VTOL) air vehicles.
Bell hopes to incorporate similar technology into the air taxi. Fully autonomous flight would allow the pilot seat to be occupied by a fourth passenger.
Bell is one of a handful of firms that ride-sharing company Uber is collaborating with to create a network of on-demand flying taxis. Others include Embraer, Mooney, Pipistrel Aircraft and Aurora Flight Sciences. Uber is also working with the governments of Dallas-Fort Worth and Dubai, real estate firm Hilwood Properties and electric charging company ChargePoint.
Launching a new form of transportation is an ambitious project, but with a series of carefully selected strategic partnerships and the technology expertise of companies like Bell, success is not out of the question. A new era of urban aviation may be closer than ever before.