Microbeads Already Removed from Some Products Ahead of UK Ban
Marie Donlon | January 09, 2018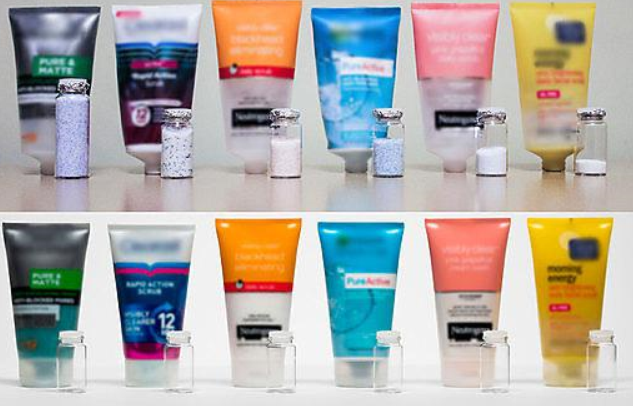 University of Plymouth image showing the contrast in levels of microbeads found in cosmetics products, 2015 (top) and 2018. Source: University of Plymouth
As the ban on microbeads in cosmetics takes effect this week, researchers from the University of Plymouth have discovered that some companies have already removed the particles — which are harmful to the environment — from their products.
According to a study published in 2015 that helped to inspire the ban, researchers found that nearly 100,000 microbeads were likely released each time a product such as face scrub was used. As the plastic microbeads are washed down the drain, they end up polluting the ocean and, subsequently, harming marine life.
Originally, researchers looked at six familiar over-the-counter cosmetic products and subjected them to vacuum-filtration and, eventually, to analysis using electron microscopy, which indicated that 150 ml of each product contained between 137,000 and 2.8 million microparticles.
Now, using similar methods to test some of the same products for the presence of microplastics, researchers found the controversial ingredient missing ahead of the UK ban.
"I have always said that in order to tackle the problems associated with marine pollution, a holistic approach is needed. That includes scientific research, action from industry and legislation from government and although we can't say all cosmetic products are completely plastic free, this is a demonstration that things are moving in the right directions," said Professor of Marine Biology and Study Lead Richard Thompson, OBE.
"That, of course, is very encouraging but microbeads have always only been one part of the problem — albeit a completely avoidable one. At the moment, there is a growing awareness of the problems posed by plastic pollution and what needs to be done if we are to prevent its continued spread. It is crucial that we continue to spread that message and we all have a role to play in taking action against this global threat to our environment," concluded Professor Thompson.