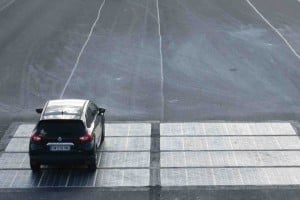 Pictured is the world's first solar road, which was opened in Tourouvre-au-Perche in Normandy, France at the end of 2016. Similar to the solar road stolen in China, the one-kilometer road has approximately 2,800 square meters of photovoltaic cells, which is enough to power a section of the village's street lighting. Source: WattwaybyColas
While solar panels on rooftops have become more and more commonplace, solar roads are still less common and thus interesting enough to still attract a great deal of attention and curiosity. In fact, the technology is such a novelty that it has recently attracted the attention of thieves in Jinan, China, who removed a recently installed section of experimental solar road.
Made from a combination of solar panels and transparent hard-top coating, solar roads can be expensive to make and install, but the individual solar components used in its construction are, by comparison, inexpensive, which has mystified investigators, as the thieves don't stand to profit. Likewise, the stolen section of road wasn't large enough to power a home.
Instead, investigators suspect that the motivation for such a theft might be to unearth design secrets based on how carefully the section of road was cut out — despite the fact that there are much easier ways to unearth those design secrets.
The section of solar road, which measured 0.14 x 1.84 m, was originally installed at the end of last year only to be removed days later on January 2. Although the missing section of road has been replaced, officials will continue to investigate.