Cancer and Health Dangers from Toxic Fluorochemical Releases Around U.S. Air Force Bases
Gary Kardys | January 08, 2018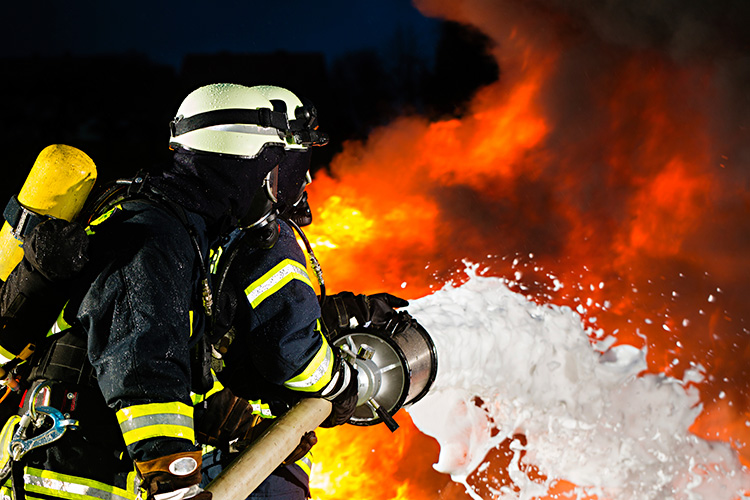 Firefighters spraying AFFF foam to smother, cool and suppress fire. Source: University of Berkeley News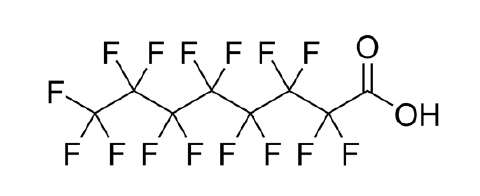 Structure of perflourooctanoic acid or PFOA. Source: SIDARFluorochemical (PFA) firefighting foams used around many U.S. airbases and airports have contaminated the surrounding groundwater (CBS News Story Video). The PFA contamination of drinking water might be causing increased cancer rates and low birth weights around these bases. The EPA has said anything over 70 parts per trillion could be dangerous. Some water they tested here had over 1,300 parts per trillion.
A mailman, Dan Cruz, who delivered mail to Peterson Air Force Base for 25 years, developed three types of cancers (thyroid, prostate, testicular). No one in his family ever had a history of developing cancer. Mica Ullum also lived in a town near Peterson Air Force where the foam has contaminated the drinking water. Mica had a premature infant, Sadie, and then four other pregnancies, which all ended in miscarriage or death.
Aqueous film forming foam (AFFF) or firefighting foams have been used since the 1970s at airports, military bases and in marine applications to suppress fires. AFFFs are typically based on fluorochemicals (PFAs). Fluorochemicals (PFAs) such as perfluorooctanoic acid (PFOA) and perfluorooctane sulfonate (PFOS) are demonstrated carcinogens and reproductive toxins. These fluorochemicals can even cross the blood-brain barrier, which might cause brain tumors, disrupt endocrine function, increase stress hormone levels and impair reproductive cycles. Research on the effect of PFOS in rats has shown that both low and high doses of PFOS affected the reproductive cycles of female rats. The unique properties and high chemical stability of carbon-fluorine bond make PFOA and PFOS useful components in a wide range of industrial applications such as fire-fighting foams, surfactants, polymers, fire retardant additives, pharmaceuticals, lubricants, adhesives, cosmetics, paper coatings and insecticides. Unfortunately, the chemical stability of PFOA and PFOS also makes these chemicals very persistent in the environment and bioaccumulative in the human body, resulting in increased body burden.
The Air Force has taken action by eliminating the use of PFA-based AFFFs. They are spending over $4 million to supply bottled water and filtration systems to the residents around the base. Training exercises are using water in place of AFFFs. Procedural changes have been eliminated to reduce unknown risks to the community such as immediately cleaning up any AFFFs used on a real fire or from a spill.
In May 2002, The Fire Fighting Foam Coalition (FFFC) reported that 3M, the manufacturer of the type of AFFF that contains PFOS, voluntarily stopped production of AFFF because it contains PFOS and the chemicals are now showing up in the blood of humans and animals. Soil and water contaminated with PFOS have been found near airports long after fire-fighting foams containing PFOS have been banned. PFA-based AFFFs at military bases, airports and marine facilities have the potential to cause drinking water quality problems and human health issues nationwide.

In October 2017, a class action lawsuit was filed against several manufacturers of AFFF containing PFOS and PFOA for the contamination of the groundwater. The class action complaint names the Tyco Fire Products L.P., Buckeye Fire Protection Co., The 3M Company, National Foam, Chemguard and others as defendants. In November 2017, Minnesota Attorney General, Lori Swanson, initiated a $5 billion lawsuit against 3M alleging that the company dumped potentially toxic perfluorochemicals (PFCs) into sites in Woodbury, Oakdale and Cottage Grove for more than 40 years. They claim the chemicals then seeped into water wells, increasing the rate of cancer, birth defects, and infertility across several Minnesota cities. According to the CBS News story, "Are toxic chemicals at Air Force bases leading to cancer, low birth weight?", 3M said there is no merit in the health claims, adding that they "sold these products with instructions regarding their safe use and disposal...acted responsibly at all times...and will vigorously defend this lawsuit."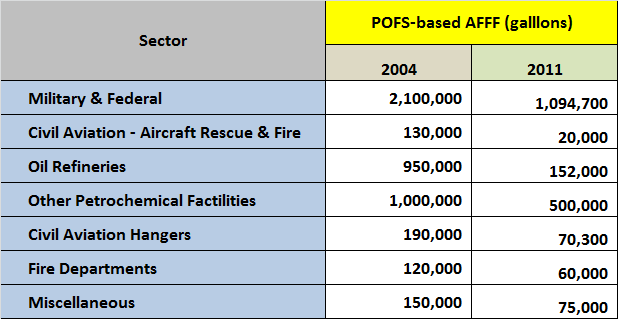 Estimates of POFS AFFF consumption in the U.S. Source: ASTSWMOThe EPA has issued a Drinking Water Health Advisory for Perfluorooctanoic Acid (PFOA). The Perfluorinated Chemicals (PFCs): Perfluorooctanoic Acid (PFOA) & Perfluorooctane Sulfonate (PFOS) Information Paper prepared by the Association of State and Territorial Solid Waste Management Officials (ASTSWMO) provides additional details on the problem such as chemical structure and manufacturing, detection of PFAs in the environment, and remediation methods.
According to the EPA, the major locations that may have been contaminated with PFCs include firefighting training areas, aircraft crash sites, metal coating and plating facilities, water treatment systems and receiving water bodies, and airport hangars and other facilities storing firefighting foams. Millions of gallons of perfluorooctane sulfonate (PFOS) AFFFs were sent to oil refineries, military bases, civil aviation sites, and petrochemical plants as indicated by the estimates for 2004 and 2011.
Large quantities of PFCs persist in the environment worldwide. PFC contamination has even been found in the Arctic. A July 2017 study released today by the nonprofit Environmental Working Group and Northeastern University in Boston found harmful PFCs be found in drinking water systems in 27 U.S. states and in the tap water supplies of 15 million people. EWG and the Social Science Environmental Health Research Institute at Northeastern collaborated to produce an interactive map that combines drinking water data from the Environmental Protection Agency and information on all publicly documented cases of PFC pollution from manufacturing plants, military air bases, civilian airports and firefighter training sites.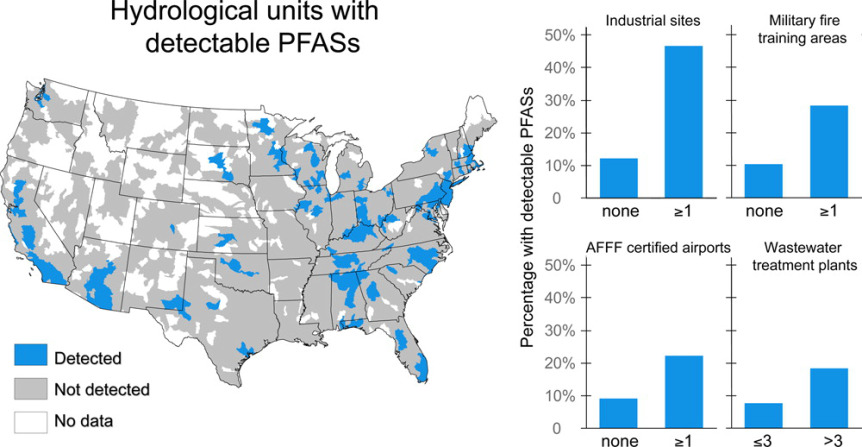 Areas in the U.S. with detectable perfluoroalkyl substances (PFASs) such as PFOAs, PFPSs and perfluorhexanoic acid (PFHxA). Source: Hu XC et al., Environmental Science & Technology Letters, 2016