Astronaut John Young, who walked on the Moon during Apollo 16 and commanded the first space shuttle mission, died Friday, Jan. 5, 2018, at the age of 87.
After hearing President Kennedy's bold proposal in 1961 to land a man on the Moon and return him safely to Earth, Young said knew what he had to do.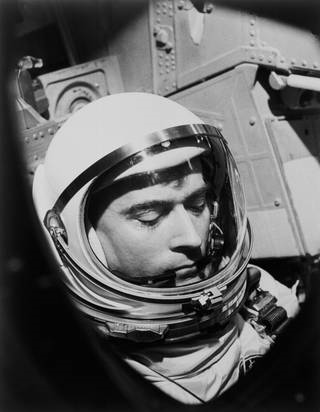 Young in Gemini 3. Credit: NASA"I thought returning safely to Earth sounded like a good idea," said Young, who stood on the Moon, drove 16 miles in a lunar rover and spent three nights on the lunar surface. He is the only person to go into space as part of the Gemini, Apollo and space shuttle programs and was the first to fly into space six times -- or seven times, when counting his liftoff from the Moon during Apollo 16.
After earning a degree in aeronautical engineering from Georgia Tech, he joined the Navy and, after a year's service aboard a destroyer, was sent to flight training. He flew fighter planes for four years, then completed test pilot training and served three years at the Navy's Air Test Center, where he heeded the president's call to go to the Moon.
In March 1965, Young made his first flight as an astronaut, joining Gus Grissom on Gemini 3, the first manned flight of that program. As Young prepared, a sense of obligation overruled excitement or any other emotion.
"We were just thinking about doing the job right," Young said.
Young commanded the Gemini 10 mission in July 1966. He and pilot Mike Collins rendezvoused with two Agena target vehicles, and Collins did a spacewalk to retrieve a micrometeorite detector from one of them.
He served as command module pilot on Apollo 10 in May 1969 and flew to the Moon with crewmates Tom Stafford and Gene Cernan. The crew scouted landing sites from lunar orbit and rendezvoused the lunar module and command module in a full dress rehearsal for the Apollo 11 landing two months later.
Young made a return trip to the Moon as commander of Apollo 16 in April 1972. With Ken Mattingly orbiting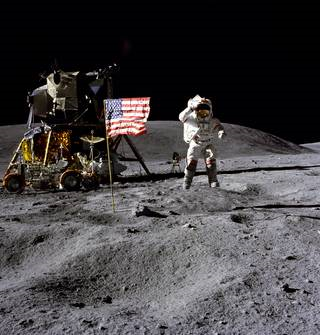 John Young on the Moon, with the Lunar Module and Lunar Rover in the background. Credit: NASAabove in the command module, Young and lunar module pilot Charlie Duke landed in the Descartes highlands, where they set up scientific equipment and explored with the rover. The mission returned more than 200 pounds of Moon rocks gathered from three geological outings.
Young's career was full of firsts, none more notable than in April 1981, when he commanded Space Shuttle Columbia on its -- and the Shuttle program's -- maiden flight, STS-1. It was the first time a piloted spacecraft was tested in space without previous unpiloted orbital flights. Young and pilot Robert Crippen accomplished more than 130 flight test objectives during their almost 55-hour mission.
In late 1983 Young commanded STS-9, the first Spacelab mission. The 10-day mission returned more scientific and technical data than all the Apollo and Skylab missions combined.
In addition to his six spaceflights, Young was a member of five backup crews. He's logged thousands of hours of training and flight time, including a total of 835 hours in space.
In early 1973, he became chief of the Space Shuttle Branch of the Astronaut Office at Johnson Space Center. The following year, Young, who retired from the Navy as a captain in 1976 after 25 years of military service, was named chief of the Astronaut Office, a post he held until May 1987.
Throughout this time, Young remained an active astronaut, eligible to command space shuttle missions. He was inducted into the National Aviation Hall of Fame in 1988.
"I've been very lucky, I think," Young said at his retirement from NASA in 2004. As to which moment was most memorable, he said simply, "I liked them all."