Researchers from Johns Hopkins University have applied the Science of Christmas Present to shed light on how Rudolph became the Red-Nosed Reindeer, the Grinch's heart grew three sizes in one day and a nightshirt-clad Ebenezer Scrooge practiced time travel.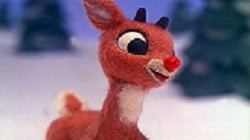 Image:Classic MediaFor those of you who mutter "Humbug!", please know that the aforementioned literary phenomena were tackled by scientists with advanced degrees in neurobiology, medicine, physics and whimsy.
A genetic genesis is put forth for the origins of Rudolph's glowing nose, likely due to the transfer of genetic material from a brightly colored coral as his pregnant mother crash landed in the Red Sea. The material obviously entered the mother's bloodstream and was passed to her unborn calf, imparting the properties of bioluminescence. See the video above.
Explains Steve Farber, principal investigator at the Carnegie Institution for Science and a Hopkins biology professor, "Mobile genetic elements are derived from viruses and have the amazing ability to cut and insert chunks of DNA into the genome of its host."
And how did the Grinch's tiny heart grow three sizes on the day he had a change of, um, heart about Christmas? Heart failure or a ruptured valve has been ruled out. The most likely scientific explanation is the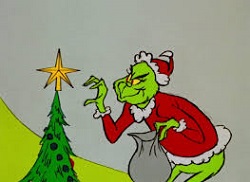 Image:MGM Televisioncreature's reptilian nature. He is green, after all.
"He's a snake," said Dr. David Kass, professor of cardiology. "The snake hypothesis covers a lot of bases." He posits the Grinch to be a python because their hearts enlarge when a large meal is consumed. It is also observed that the Grinch nabbed a roast beast, and does indeed slither. This hypothesis seems to be corroborated by researchers in Colorado who raised pythons and noticed that an oily mix developed in their blood after a big meal that appeared to make their hearts rapidly enlarge.
Here's a video documenting the scientific validity of this finding.
Albert Einstein's theory of special relativity is invoked in accounting for Scrooge's time travel. According to Ibrahima Bah, an assistant professor of physics and astronomy, the clock ticks more slowly for someone moving at high speed, which is required to visit the future, with the effect more dramatic as the person approaches the speed of light. Ten years in that person's reference frame can be 30 years to someone standing still.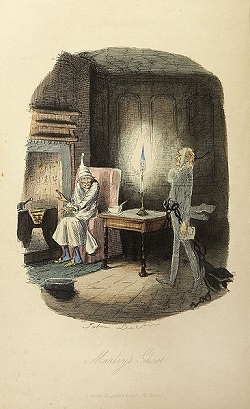 Source: Wikimedia Foundation, Marley's ghost, from Charles Dickens: A Christmas Carol. Illustrations by John Leech. London: Chapman & Hall, 1843. First edition.Going back in time is trickier. Negative energy could create some space-time loop allowing Scrooge to see himself as he was. Sounds good, right? But negative energy doesn't really exist.
Or Scrooge could go back through a phenomenon called a naked ring singularity, which involves taking matter, spinning it fast and then collapsing it into a small area to create a rip in the fabric of space. This also sounds appropriately scientifically complex and is also not thought to be possible.
"I've proposed a number of ways this could happen, if you're willing to forgo the impossibilities in the system.
"I'm just having fun," added Bah, who explains all in this video.
We await scientifically rigorous explanations of the Easter Bunny, the Tooth Fairy and the entity that keeps hiding my good pen.