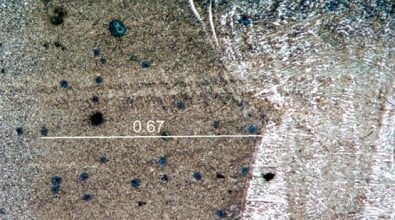 A new method of laser welding at high temperatures enhances properties of AHS steel for applications in automotive and aerospace industries. Source: Welding Journal
Superior formability and collision resistance properties make advanced high-strength (AHS) steels ideal for use in critical safety locations in car body structures to absorb energy from impacts. Some of these alloys, however, become brittle after welding and may break when submitted to hot stamping and forming processes.
A new approach to high-temperature laser welding overcomes these limitations and can easily be applied to improve laser welding of high-strength and ultra-high-strength steel. The technique developed by researchers from Brazilian Air Force Command's Institute for Advanced Studies entails heating sheets of 22MnB5 steel — the most promising AHS grade for hot stamping and forming — to approximately 450 degrees Celsius ten minutes before laser welding to equalize the temperatures.
The sheets are kept at a high temperature for another ten minutes after welding to produce a bainitic structure. This microconstituent forms in steel under certain conditions and is considered the best candidate to produce tough and reliable weld joints.
Sheets welded at this high temperature were demonstrated to contain bainite and were far tougher than sheets welded at room temperature, which contained martensite, a microconstituent with lower yield and tensile strengths than bainite.
Stress tests also confirmed the resilience of sheets welded at high temperatures. Bainitic steel is expected to be an excellent material for shielding and armoring because of its high capacity to absorb mechanical energy.
The research was supported by Sao Paulo Research Foundation — FAPESP.