Researchers Locate Unconventional Sites for Future Solar Farms
Marie Donlon | December 20, 2017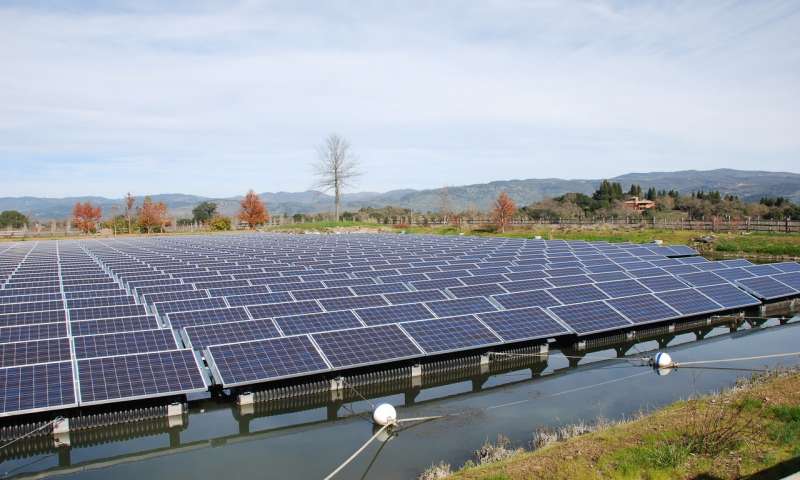 A floatovoltaic installation at Far Niente Winery in Oakville, Calif., comprises nearly 1,000 solar panels floating on pontoons on the vineyard irrigation pond. Source: Far Niente Winery As the renewable energy sector and the agricultural industry often vie for the same land, researchers from the University of California, Riverside, and the University of California, Davis, set out to locate alternative and unconventional sites throughout California's Central Valley for future solar panel installations that would not encroach on land suitable for growing crops.
Publishing their findings in Environmental Science and Technology, researchers believe that oftentimes, solar farms are being erected on valuable agricultural land that is already being threatened by urban sprawl.
"When a piece of land is developed for a solar installation, it is very unlikely to be reverted into agricultural land, even when the lease to the solar company eventually runs out," said Michael Allen, professor of plant pathology and biology at UC Riverside and director of the university's center for conservation biology. "That's because flattening and compacting the land, as well as the long-term application of herbicides to keep the site clear of weeds, spoils the land for future farming. For this reason, it is important that we explore alternative sites for new developments as the industry continues to grow."
Looking at California's Central Valley for potential alternative sites for future solar farms, researchers focused on unconventional areas capable of supporting large solar installations. Among the sites deemed suitable for such installations were rooftops, parking lots, land too salty for agricultural purposes, reclaimed land that was once contaminated with hazardous chemicals and reservoirs and irrigation channels that could support floating solar panels.
Researchers determined that all of those locations combined added up to 8,400 square kilometers of Central Valley suitable for large solar installations that would not eat up valuable farm land.
"The study highlights the wealth of sites for solar energy generation that don't conflict with farmland or protected areas," said Rebecca R. Hernandez, assistant professor of earth system science and ecology at UC Davis. "Since farming is an incredibly energy-intensive industry, the land sparing sites we identified could provide a win-win situation for both farmers who need more energy and the energy providers that wish to serve them."

For more on the study, go to Environmental Science and Technology.