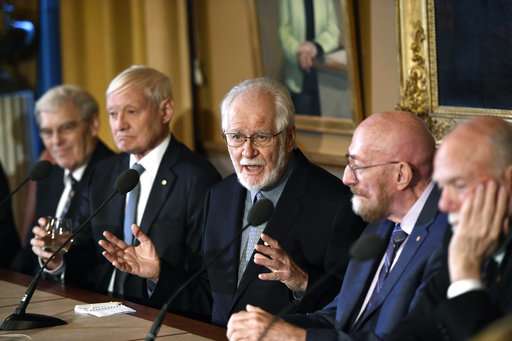 From left, Richard Henderson, Nobel Laureate in Chemistry, Joachim Frank, Nobel Laureate in Chemistry, Jacques Dubochet, Nobel Laureate in Chemistry, Kip Thorne, Nobel Laureate in Physics and Barry Barish, Nobel Laureate in Physics speak during a press conference at the Royal Academy of Science in Stockholm, Thursday Dec. 7, 2017. Source: Pontus Lundahl/TT News Agency via APDespite the fact that this year's Nobel Prize winners in physics, chemistry and economic sciences are all white men, the winners believe that change is on its way.
Noting the absence of female representation in the sciences prior to the prize ceremony in Stockholm, the Nobel Laureates suggested that more and more women will be joining their ranks.
Jacques Dubochet, winner of the chemistry prize, told reporters: "Science has been made by males, for males. It is changing, it takes time, but you will see it, they (women in science) are coming."
Added Physicist Kip Thorne, remarking on the number of women now entering undergrad programs in the sciences: "Change is coming, but there is a long delay between entering freshman and the Nobel prize."