Upcycling Municipal Waste to Ethanol and Chemical Feedstocks
S. Himmelstein | December 09, 2017
Technology for converting municipal solid waste (MSW) to ethanol or other new products is being advanced by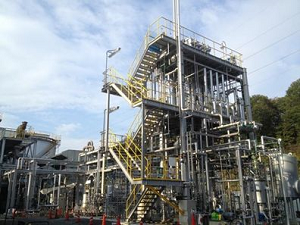 The 20,000 liter per year MSW pilot facility. Source: LanzaTechJapanese chemical firm Sekisui Chemical Company and Chicago, Illinois-based carbon recycler LanzaTech.
A gas fermentation system developed by LanzaTech was installed at an existing gasification facility at a landfill site in Japan. The scheme was demonstrated to recycle carbon from unsorted MSW, effectively diverting the waste from landfill disposal or incineration.
The LanzaTech process ferments gases and yields ethanol and other chemicals using naturally occurring bacteria. Most importantly, the technique displaces the petroleum feedstocks conventionally consumed in chemical synthesis. The chemicals produced are precursors to plastics, rubber and synthetic fibers for use in the manufacture of new packaging, sneakers, cell phone covers and clothing.
This technology aligns with Japan's "3R" strategy of reducing, reusing and recycling resources and supports the nationwide movement to reduce emissions by 26 percent below 2013 levels by 2030, according to Japan's Paris Climate commitments.
"We must focus on using carbon for products not power, giving carbon a second chance of life," said LanzaTech CEO, Jennifer Holmgren. "Imagine being able to look at your trash can and know that you can lock all that waste carbon into a circular system, avoiding CO2 emissions and maximizing our precious carbon resources. That is a carbon smart future."