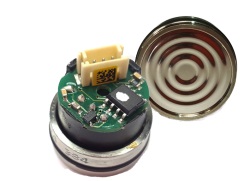 Source: All Sensors Corp.Piezoresistive silicon, stainless steel pressure sensors provide excellent overpressure characteristics and chemical resistance. The media isolated sensors operate in hostile environments with the inherent outstanding sensitivity, linearity and hysteresis of a silicon sensor.
The SPA 402 Series pressure sensors from All Sensors Corp. offer design engineers excellent performance in various applications.
The sensor chip is compatible with 316L stainless steel allowing for integration in a protective housing. The stainless steel housing provides for improved resistance to pitting from chloride ion solutions with improved strength at high temperatures. A fluid-filled cylindrical cavity in this unique design of pressure sensor is at a minimum volume for improved accuracy.
The device features measurement ranges from 5 to 500 psi, a required supply voltage of 2.7 to 5.5 Vdc and are operational over a wide temperature range of -40 to 125 °C. Common applications include pneumatic and hydraulic components, level measurement devices and other industrial and process applications.