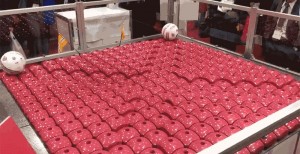 Source: Hirotaka Niisatol / TwitterMaking its debut at the Tokyo International Robot Exhibition is a robotic table capable of moving objects along its surface.
Imagine being seated in the middle of a table full of holiday guests and, not wanting to interrupt the revelry, you longingly eye the mashed potatoes at the other end of the table instead of asking someone to pass them.
The robotic table, created by Japanese robotic design company Intelligent Actuator, can solve this problem by moving the bowl along its surface right to its recipient, all without you having to lift a finger.