Here's some good news: Manufacturing, which has certainly seen tough times over the past few decades, is on the rise.
According to a recent J.P. Morgan global manufacturing Purchasing Managers' Index (PMI) report, manufacturing growth has accelerated to an 80-month high. We had the chance to chat with some of the key players at Chicago-based tech consulting firm SPR Consulting about what's driving the resurgence. Their answer, in a nutshell: technology.
Here are excerpts from our conversation with SPR Consulting's Kevin Hartman, vice president of strategic initiatives and David Kinney, principal architect. Answers have been edited for space and clarity.
---
Eng360: U.S. manufacturing is finally seeing resurgence after decades of decline. What has changed to make that happen?
Kevin Hartman: A variety of drivers have contributed to the resurgence of manufacturing, each with effects that build on one another and amplify each other over time. Today's resurgence is a result of that amplification. Here are three primary drivers as we see them:
Technology advancements in manufacturing: Automation has reduced the cost disparity in labor between the United States and other manufacturing centers. Industrial robots are even more integrated into factory processes. They've become easier to program and are more capable than humans.
Rapid prototyping: 3D printing and other prototyping technologies have allowed companies (and inventors) to shorten the feedback cycle between design, build and test. This has reduced the barrier of entry for becoming a product company.
Expansion of new ideas: The U.S. has always been the leader in new product innovations. Previously, new product ideas would require multiple months or even years before a release would hit the market. This is because legacy manufacturing processes required substantial upfront investment of time and resources. Advances in prototyping and operational agility have cultivated the perfect environment for new product companies to emerge and grow. These companies look for shorter runs rather than mass productions because they are smaller and more nimble, and they lack the sophistication and/or resources to engage traditional offshore manufacturers in a low-risk manner.
David Kinney: As a result of those drivers, the timing of goods produced has gone from months to weeks. As more product ideas emerge, there will be a higher manufacturing demand. This too will cultivate further investment in next-generation prototyping and manufacturing technology. Large product companies are aware of this trend and are becoming more agile, and have the same desire to keep their supply chains tight and close by.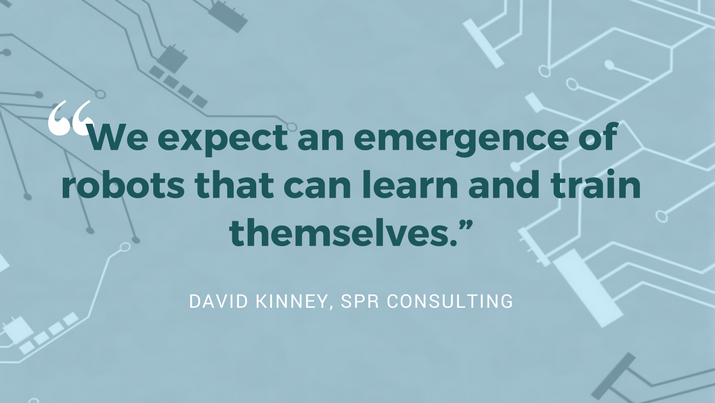 Quote illustration: TRP/Engineering360.
Eng360: What aspects of technology are most important to manufacturing today?
Kinney: Manufacturers want to become more responsive and more efficient. The current industry trends that leverage technology include improving supply chain management to increase efficiency; automating quality assurance to improve yields and reduce costs; and optimizing maintenance schedules to minimize downtime.
Hartman: Enabling operational insights requires an investment in the operational technology (OT) environment. Integrating the OT environment with the IT environment begins by collecting data from programmable logic controls and sensors, and storing this data in a centralized system securely and in a reliable manner. Getting this right is the first challenge. Once this is achieved, there are plenty of existing solution examples that can help operationalize data and begin the journey of deriving and acting upon new insights.
Eng360: Tell me more about automation and AI as they relate to industry, and how processes or workflows can be streamlined.
Hartman: Operators want a holistic view of their factories across multiple locations from the supply chain through the factory floor and into distribution. Looking further out, they want systems that can respond to changes and events across the field, and can issue alerts and self-healing solutions, automatically. AI is the next leg of this journey, as it will allow for multiple systems to be integrated for providing insights.
Kinney: With automation, operators get connected factories and streamlined robotics. AI will allow for fully autonomous (and self-optimized) closed-loop systems, automated risk assessment of supply chains and distribution channels, and improved automated quality assurance.
Eng360: What aspects of technology do you see trending for manufacturing over the coming year? Are there particular areas to watch?
Kinney: Next year we expect to see increased utilization of augmented reality (AR). When AR is combined with external data such as real-time control readings, equipment status and environmental information, a variety of use cases emerge. All of them provide additional information about the piece of equipment under view, such as highlighting fault areas that require attention; providing the operator feedback on proper placement and alignment of feeder systems; or showing how to operate a piece of equipment step-by-step, by highlighting the areas to manage next. We also expect an emergence of robots that can learn and train themselves, and we expect advancements in pre-emptive analytics.
Hartman: Next year we expect prescriptive analytics to be used to allow for additional external data to be brought in to evaluate hypothetical scenarios and advise on outcomes. Additionally, we expect to see solutions emerge around blockchain for scenarios such as ensuring contractual obligations have been met, and issuing payment immediately according to terms without the need for third-party involvement or arbitration.