The healthcare sector is not usually cited as a major air polluter, but the industry accounts for nearly 10 percent of greenhouse gases and other air pollutants in the U.S. and three percent in the UK. Some hospital practices can be revised to realize more environmentally sustainable operations, as demonstrated by a healthcare center in India.
Researchers from NYU School of Medicine monitored surgical material use, energy consumption and waste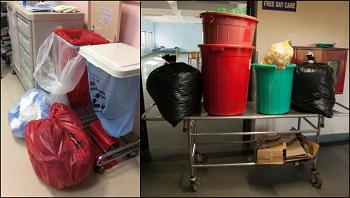 The waste generation from just one cataract surgery in the U.S (left) compared to the waste generation from 93 cataract surgeries in India (right). Credit: Cassandra Thiel, PhD/NYU School of Medicinegenerated by cataract surgery at the Aravind Eye Care System in southern India over a four month period. Evaluation of air and water pollution emissions revealed that this facility emitted just 4 percent of the emissions as that of a comparable facility in the UK performing the same procedure.
Emissions per surgery at Aravind totaled 6 kg of carbon dioxide equivalent compared to 160 kg of carbon dioxide equivalent in the UK, which the researchers say is the emissions equivalent of driving just 14 miles instead of 391 miles. The reduced emissions reflect the environmental benefits of shorter surgery durations; better re-use of surgical gowns, caps, booties, and blankets; multi-use pharmaceuticals; and more efficient sterilization of stainless steel instruments to enable same-day reuse.
The healthcare center has adopted these practices as India seeks to end preventable blindness by doubling its current cataract surgical rate. Use of surgical methods as currently employed in the UK to achieve this goal would result in greenhouse gas emissions equivalent to 250,000 passenger vehicles' yearly mileage. Adopting Aravind's approach to cataract surgery nationwide would result in the same greenhouse gases as 9,000 passenger vehicles.
"Aravind's model for surgery—its use of reusable instruments, energy-efficient appliances and air handling systems, and investment in low-carbon energy sources—serves as an example of more sustainable, efficient cataract surgery," says Joel S. Schuman, MD, chair of the Department of Ophthalmology at NYU School of Medicine.