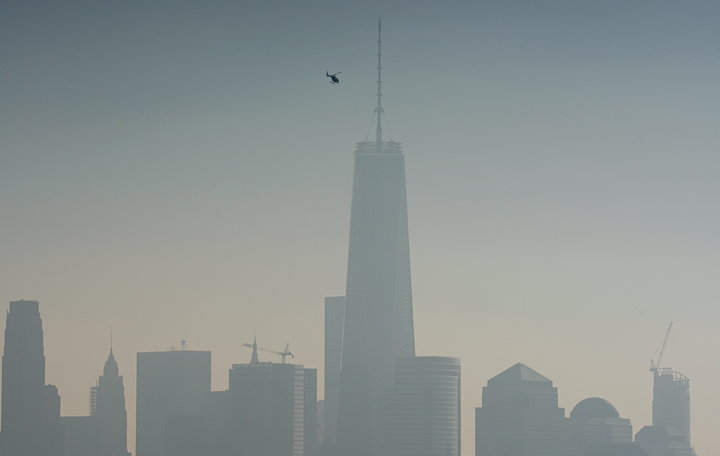 A helicopter flies over the Hudson River on a hazy day in New York City. Source: Rickey Rogers / ReutersA study conducted by researchers from Duke University and Imperial College London found that people age 60 and older walking on polluted main streets saw fewer, if any, of the health benefits walking would have on the heart and lungs.
Publishing their findings in the medical journal The Lancet, researchers found that those 60 and over walking in less polluted locations, such as parks where there was less exposure to traffic exhaust, experienced improved lung capacity over the same age group walking in high traffic areas.
"Combined with evidence from other recent studies, our findings underscore that we can't really tolerate the levels of air pollution that we currently find on our busy streets," said Fan Chung, professor of respiratory medicine and head of experimental studies medicine at Imperial College's National Heart & Lung Institute.
"For many people, such as the elderly or those with chronic disease, the only exercise they very often can do is to walk," Chung said.
Chung believes that additional studies should be conducted to determine the effect on other age groups as well and advises all individuals to avoid high traffic areas in favor of green spaces. However, he also notes that this isn't always a possibility for those living and working in large cities.
"Our hope is that this study will add to the evidence city leaders need to contribute to policies that will encourage preservation of green spaces," said Jim Zhang, professor of global and environmental health at Duke and the study's co-author.
He added: "As economic growth and urbanization happen around the world, lots of cities are left with very little green space....People like outdoor exercise. We should provide them with spaces to enable that instead of giving them no choice but to walk and cycle through busy, polluted streets."