On November 28, Textron Aviation announced the Cessna SkyCourier 408, a new large twin-engine utility turboprop. Designed in collaboration with FedEx Express, the aircraft's hold will fit up to three FedEx LD3 cargo containers. It features a large 87" x 69" cargo door and a cargo floor with built-in rollers designed for efficient container loading. The aircraft has a maximum payload capacity of 6,000 pounds.
Powered by a pair of 1,100 shp PT6A-65SC engines manufactured by Pratt & Whitney Canada, the SkyCourier cruises at a maximum speed of 200 knots true airspeed (KTAS) with a 900 nautical mile range. Engine and aircraft flight data will be captured and analyzed by P&WC's FAST (flight acquisition, storage and transmission) monitoring and analysis system.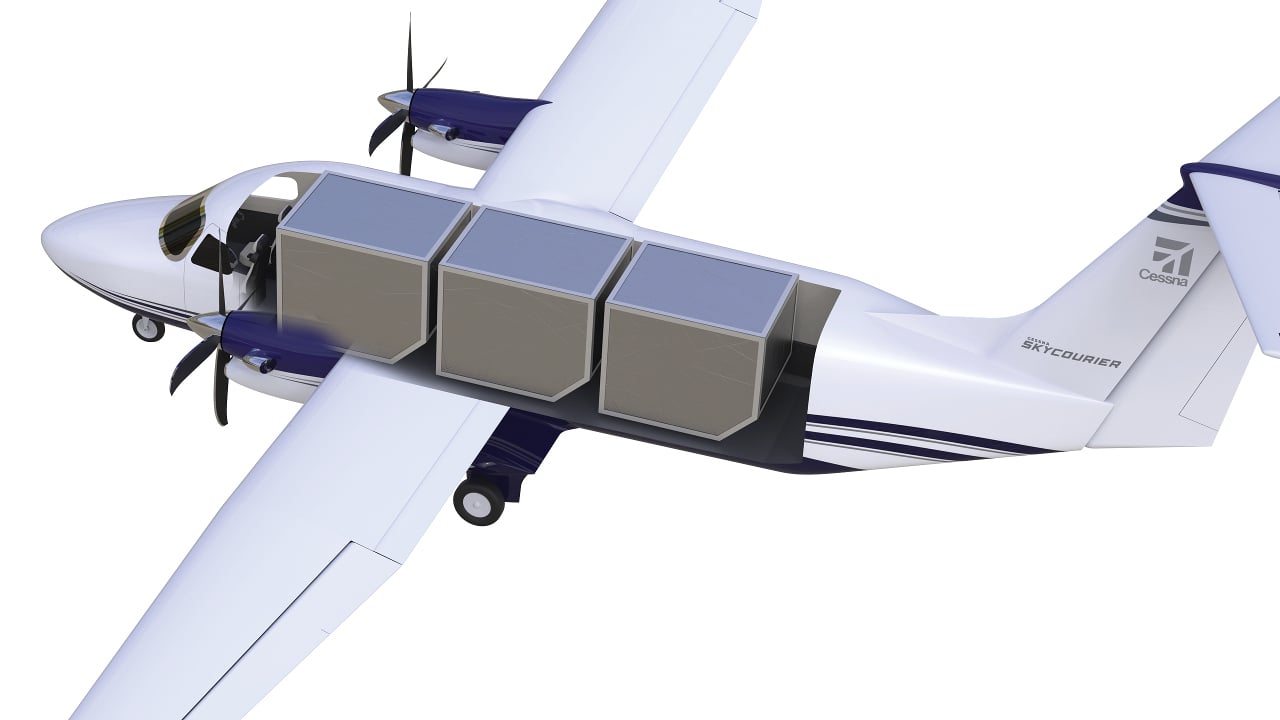 The cargo variant of the SkyCourier 408 will carry up to three FedEx Express LD3 cargo containers. Credit: Textron Aviation
FedEx Express has entered into a purchase agreement for 50 of the new aircraft, with an option to order up to 50 more.
During development of the SkyCourier 408, Textron Aviation collaborated with FedEx Express on a design that would fulfill the requirements of FedEx's feeder fleet of cargo aircraft.
"With our depth of expertise and proven success in new product development, we were eager to work directly with a world-class company like FedEx Express to jointly develop the Cessna SkyCourier," said Scott Ernest, president and CEO of Textron Aviation. "The aircraft will fulfill a gap in this market segment with its superior performance and low operating costs in combination with the cabin flexibility, payload capability and efficiency only a clean-sheet design can offer."
With a fixed landing gear and high-wing configuration, the SkyCourier 408 has a simple design intended to move freight quickly and efficiently. The aircraft will have an unpressurized cabin surrounded by aluminum skin. Its McCauley Blackmac 4-blade propellers will also be constructed from aluminum. Manual flight controls are complemented by a standard Garmin G1000 NXi avionics suite.
The SkyCourier will also be available in an unpressurized 19-passenger variant.
Wind tunnel tests to verify the plane's aerodynamic characteristics and structural loading are scheduled to start in January.
Textron plans for the first SkyCourier to enter service in 2020. Delivery of additional aircraft will occur on a schedule of one per month over four years.
The aircraft will be built in Wichita, Kansas.