A precision de-icing tool developed by researchers from U.S. Oak Ridge National Laboratory (ORNL) and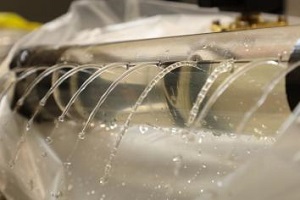 A variable control mechanism enables precision de-icing on urban roads. Source: Jason Richards/Oak Ridge National Laboratory; U.S. Dept. of EnergyUniversity of Tennessee offers a cost-effective approach to the management of winter roads in urban areas. Software and hardware are combined to optimize seasonal road salting, enabling cities to allocate resources effectively and increase safety on critical roads.
High-resolution modeling quantifies vulnerable roadways so that cities can identify which roads need to be treated and how much de-icer is necessary. The method is shown to significantly increase the number of roads treated on a city's designated budget. The approach also includes a variable control mechanism developed for salt truck spreaders so that the appropriate amount of de-icer can be applied to roads to minimize waste and expand coverage.
"Across the U.S., cities collectively spend about $1.5 billion on winter road maintenance, and given the expense, many lack the resources to provide complete coverage," said Olufemi Omitaomu of ORNL's Urban Dynamics Institute. "Our goal is to give cities a way to get the best return on their investments with an intelligent approach to managing their resources effectively."