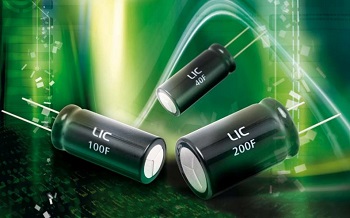 Source: Wuestenfisch1 | CC BY-SA 3.0A next-generation energy storage device addresses the pitfalls of both supercapacitors and advanced lithium-ion batteries. The hybrid lithium-ion capacitor (HyLIC) supplies a high power density and an increased cycle life that is expected from a supercapacitor, while exhibiting exceptionally high energy density previously only achieved with advanced lithium-ion batteries.
Hybrid Lithium-ion Capacitor (HyLIC)
A research group at the Aeropropulsion, Mechatronics and Energy Center of Florida State University tested a hybrid energy storage source which combined the physical concepts of a lithium-ion battery with an electrochemical capacitor.
The hybrid design incorporates composite electrodes. The cathode is a two-sided structure consisting of lithium ion metal oxide particles and an activated carbon layer. The anode is comprised of hard carbon and a stabilized lithium metal powder layer.
The internal hybrid design utilized a negative electrode with the same structure as a lithium ion capacitor while the cathode incorporates materials conventionally found in a lithium-ion battery. It provided for increased negative potential, limited electrolyte consumption and provided for higher energy densities than was previously attainable.
The power source is simple, light, compact and cost-effective when compared to external hybrid energy storage systems with dedicated electrochemical cells. It is able to sustain both low and high loads and function either as an energy storage device or power storage device depending on the load configuration without the need for complex electric circuits for charge balancing and control.
Performance
The voltage profiles of the HyLIC were compared under both low current rates and high current rates to help quantify its ability to function as an energy storage device as well as a power storage device. When tested under lower loads with power demands of 60 W/kg the HyLIC exhibited an energy density of approximately 150 Wh/kg, which is far superior to the electrochemical capacitor that delivered 60Wh/kg. When tested under a larger load with a demand of 1000 W/kg the HyLIC exhibited an energy density of 21 Wh/kg versus 3 Wh/kg that was experienced with a lithium-ion battery.
The HyLIC is a novel energy storage device that delivers a fine balance between power density and energy density. Its highest energy density is experienced over a power density range of 80 to 300 W/kg and is an attractive solution for applications that demand diverse load profiles.
Applications
The demand for highly efficient energy storage devices in the electric vehicle (EV) market has spawned rapid growth in technology. The introduction of start-stop systems and regenerative braking systems called for greater power densities than were available in traditional power sources, most commonly the lithium-ion battery. In response, supercapacitor-based voltage stabilization systems flooded the market.
The hybrid lithium-ion capacitor is a novel technology that can economically address power needs in EVs. During peak demand, the device experiences limited draw-down while providing peak energy densities under moderate loads. The technology has been illustrated in a controlled environment providing promising advancements in the EV market as well as other markets in need of a flexible power source.
Resources:
A hybrid electrochemical device based on a synergetic inner combination of Li ion battery and Li ion capacitor for energy storage