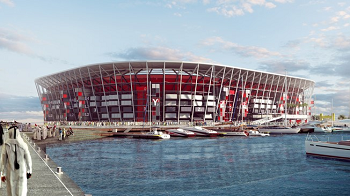 Illustration of the Ras Abu Aboud Stadium. Source: FIFAA new 40,000-seat stadium to host the 2022 Fédération Internationale de Football Association (FIFA) World Cup is under construction in Qatar. The Ras Abu Aboud Stadium, the seventh stadium design launched ahead of the event, will be built using modular blocks such as shipping containers.
Each modular building block contains removable seats, concession stands, lavatories and other fundamental stadium elements. The sustainable design and construction approach will require fewer materials, create less waste and reduce the carbon footprint of the building process relative to more conventional venue designs. The structure can be broken down and reassembled on another site or turned into multiple smaller venues.
The stadium will be located at a waterfront site on Doha's shore, facilitating the use of shipping containers as one of the main building blocks. The location is viewed as ideal for waterfront development after the tournament, and the current project is touted as heralding a new era of sustainable tournament infrastructure that can broaden the range of countries able to host such mega-events.