A new tire designed for future Mars rover missions can also find applications closer to home.
The Superelastic Tire, inspired by the Apollo lunar tires, is composed of a nickel-titanium shape memory alloy and can withstand excessive deformation without permanent damage. Use of the alloy as radial stiffening elements can also increase the load carrying capacity of the tire.
Commonly used elastic-plastic materials, such as spring steels and composites, can only be subjected to strains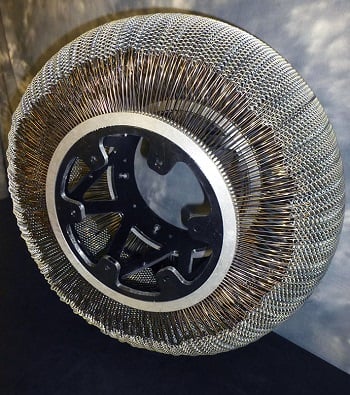 The use of shape memory alloy in radial stiffeners provides more load carrying potential. Source: NASA Glenn Research Center on the order of ~0.3-0.5 percent before yielding. By contrast, the shape memory alloy can withstand significant reversible strain (up to 10 percent), enabling the tire to endure an order of magnitude more of deformation than other non-pneumatic tires before undergoing permanent deformation.
The material also provides enhanced control over the effective stiffness as a function of the deformation, providing increased design versatility. The Superelastic Tire can be made to soften with increased deflection, reducing the amount of energy transferred to the vehicle during high deformation events.
Other benefits cited include the elimination of the possibility of puncture failure and elimination of an inner frame for the tire/wheel assembly.
The Superelastic Tire developed by NASA Glenn Research Center and Goodyear is a viable alternative to pneumatic tires for all-terrain, military, construction, aircraft and agricultural vehicle tires.