The use of agricultural land for food vs energy has been a contentious topic. It doesn't have to be one or the other, according to researchers in Germany, who have demonstrated that both uses are compatible.
A pilot agrophotovoltaics (APV) project initiated near Lake Constance shows that dual use of land is resource efficient, reduces competition for acreage and provides a new source of income for farmers. The largest APV system in Germany is being tested by the Fraunhofer Institute for Solar Energy Systems ISE on a farm cooperative. Solar modules for electricity production are installed directly above crops covering an area of one third hectare.
"The project results from the first year are a complete success: The agrophotovoltaic system proved suitable for the practice and costs as much as a small solar roof system. The crop production is sufficiently high and can be profitably sold on the market," explains Stephan Schindele, project manager of agrophotovoltaics at Fraunhofer ISE.
Winter wheat, potatoes, celeriac and clover grass were the first crops to be tested. The south-west orientation and the extra distance between the five meter high rows of bifacial glass-glass PV modules ensured that the crops were exposed to uniform solar radiation.
The researchers observed that clover grass crop yield under the PV array was only 5.3 percent less than the reference plot. Yield losses for potatoes, wheat and celeriac were somewhat higher in the 18-19 percent range.
The array tested was composed of 720 bifacial solar modules. An increase in electric power output of 25 percent is achieved under favorable conditions. In terms of energetics, the dual use principle of agrophotovoltaics is much more efficient than solely planting energy crops, which account for 18 percent of agricultural land use in Germany.
With an installed power of 194 kW, the photovoltaic array can supply 62 four-person households with electricity. In the first year, the array produced 1266 kWh electricity per installed kW, one-third more than the average value of 950 kWh/kW in Germany.
Power output was well balanced with the daily farm load. About 40 percent of the electricity produced on the farm was used directly to charge the electric vehicles and process harvested crops. In summer, the load demand could be almost completely met by the photovoltaic system. The surplus PV electricity is fed into the Elektrizitätswerke Schönau, an electric utility company based on 100 percent renewable energy and a partner in the project.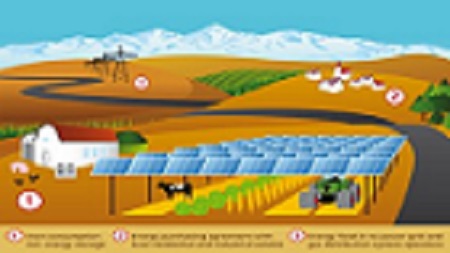 The electricity produced by the APV plant is both consumed on-site and fed into the grid. Source: Fraunhofer ISE