A new type of solar power generator engineered at the University of California, Irvine (UCI) is similar to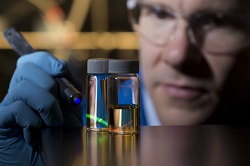 "Our results represent considerable progress toward a device that directly converts sunlight into ionic electricity, which has implications for direct desalination of seawater," says Shane Ardo, UCI assistant professor of chemistry, chemical engineering and materials science. Source: Steve Zylius / UCIconventional silicon photovoltaic cells. The primary distinction of the design is that electricity is produced by the motion of ions instead of electrons. The ionic basis of the synthetic, light-driven proton pump indicates potential application for seawater desalination.
The inexpensive system is composed of dual layers of photosensitive dye-coated, ion-transporting polyethylene plastic membranes. When struck with light from a laser pointer — a laboratory simulation of sunlight — the dye releases ions when subjected to a laser pointer beam used to simulate sunlight. Cations — positively charged ions — are transferred through one sheet while anions — negatively charged hydroxides — pass through the other. The photoactive membranes generate 60 millivolts, on average, occasionally increasing to more than 100 millivolts.
The technology might also be incorporated into a brain-computer interface system. Silicon-based devices and aqueous environments don't mix, but the flexible, fluid-permeable structures being developed by the team may one day offer a way of integrating living tissue and artificial circuitry.