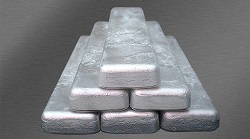 Ingots of die-cast magnesium alloy. Source: Sumitomo Electric
The automotive industry is pursuing design and materials options to reduce vehicle weight in order to improve fuel efficiency and reduce carbon dioxide emissions. An optimal route would be to replace aluminum alloys with lighter weight magnesium alloys. However, such substitution is challenged by high production costs and low die castability and heat resistance of Mg alloys.
The development of a high heat-resistant Mg alloy for automotive die casting applications may provide a solution. A material engineered by Sumitomo Electric Industries, Ltd. (Osaka, Japan) and the University of Toyama (Toyama, Japan) can be recycled, offers superior heat resistance and maintains tensile strength at 150° C - 200° C.
A new alloy ingot production system is also under development by Sumitomo Electric to help introduce the new product into automotive and other markets.