Many Medical Monitoring Uses for Ultrathin Microfiber Sensor
S. Himmelstein | November 16, 2017
New applications are being discovered for wearable devices in the medical arena as evidenced by the increasing use of microfluidic devices incorporating conductive liquid metals as wearable pressure and strain sensors. However, most do not sufficiently conform to skin or are uncomfortable to wear.
A soft, flexible and stretchable microfiber sensor developed at National University of Singapore (NUS) may provide an ultra-thin solution for real-time healthcare monitoring and diagnosis. Simple and cost-effective to produce, the sensor conforms well to skin curvature and features excellent electrical conductivity and mechanical deformability.
A liquid metallic alloy encapsulated within a soft silicone microtube functions as the sensing element. The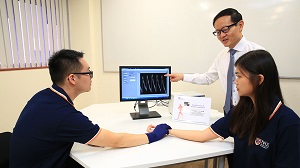 NUS researchers developed a novel microfiber sensor for real-time healthcare monitoring and diagnosis. The sensor can be woven into a glove to monitor heart rate and blood pressure. (Source: NUS)sensor measures an individual's pulse waveform in real-time, providing information that can be used to determine one's heart rate, blood pressure and stiffness in blood vessels.
"Currently, doctors will monitor vital signs like heart rate and blood pressure when patients visit clinics. This requires multiple equipment such as heart rate and blood pressure monitors, which are often bulky and may not provide instantaneous feedback. As our sensor functions like a conductive thread, it can be easily woven into a glove which can be worn by doctors to track vital signs of patients in real-time. This approach offers convenience and saves time for healthcare workers, while patients can enjoy greater comfort," said Professor Lim Chwee Teck from the Department of Biomedical Engineering at NUS Faculty of Engineering.
The device could also be beneficial for patients suffering from atherosclerosis, which is the thickening and stiffening of the arteries caused by the accumulation of fatty streaks. These streaks accumulate into plaques which may completely block off blood flow or break apart, resulting in organ failure or triggering a heart attack or stroke. Plaque detection currently relies on computerized tomography scans and other methods requiring expensive equipment and hospital visits. The new sensor could instead detect plaque before it accumulates to a size big enough to block or rupture the blood vessel.
The sensor can also be woven into bandages to monitor the pressure being applied during compression therapy for venous ulcers. The researchers are currently collaborating with the Singapore General Hospital to test the application of the microfiber sensor for bandage pressure monitoring.