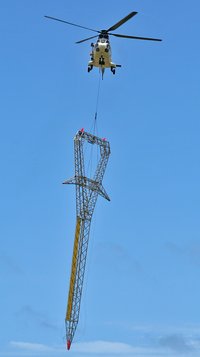 A helicopter transports a power pylon as recovery efforts continue on Puerto Rico. Source: PREPA
The Puerto Rico Electric Power Authority was on track to have 50 percent of the island's power restored by Nov. 15, 2017.
During the first week of November, some $50 million worth of materials arrived, including 207 poles, 70 feet tall.
In addition to the materials, 400 workers from Fluor Corp., over 200 workers from contractor Power Secure and 400 workers from Cobra Energy arrived on the island, said Ricardo Ramos Rodrigues, executive director of the Puerto Rico Electric Power Authority (PREPA).
Rodrigues said that 3,000 additional workers will be mobilized, most of them through a Mutual Aid Agreement with the American Public Power Association (APPA) and the Edison Electric Institute (EEI). This mobilization will be staggered and is scheduled to be completed around November 27.
PREPA has requested linemen specializing in mountainous terrain, five helicopters, personnel to coordinate the work logistics, as well as materials, resources and equipment. The plan is to have 95 percent of the island's power restored by December 15.
(Read "More Crews Head to Puerto Rico for Grid Repair Work.")
Electrical crews and experts deployed from New York state, for example, include personnel from the New York Power Authority, Con Edison, AVANGRID, PSEG, National Grid and Central Hudson Gas & Electric Corp. The New York State deployment includes 15 damage assessors who are assigned to help expedite filings for funding reimbursements with the Federal Emergency Management Agency.
Even as recovery continues, work is underway to transform Puerto Rico's electric grid, mainly through development of distributed generation and micro grids; building modern and efficient generating plants; and complying with environmental regulations.
"We intend to transform PREPA and turn it into a modern, efficient and successful company that responds to the demands of our residential, commercial and industrial customers, and goes along with our island's socio-economic development, Rodriguez said.