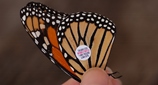 A tagged monarch butterfly. Source: Derek Ramsey / CC BY-SA 4.1
The Monarch Butterfly Fund is offering a $50,000 cash prize to the individual or team that can conceptualize and develop an innovative tagging and tracking system for monarch butterflies. This system will enable scientists and environmentalists to better understand patterns of butterfly migration and the length of time it takes them to complete their journey.
Every fall, millions of monarch butterflies travel up to 3,000 miles, leaving the cooler temperatures of southern Canada and the northern United States to winter over in central Mexico.
Contemporary methods of tracking this migration rely on adhesive tags applied to the hindwing, a limited system that requires researchers to find the butterflies at a later time, usually after death. Some information can be gathered through these tags. Overall, however, this method fails to provide key points of information, such as the butterflies' daily migratory flight and how environmental conditions affect that flight.
The focus of this public challenge is to find a technology that is widely applicable and that can be easily implemented in current conservation and scientific research, allowing individual monarchs to be tracked during the migration.
Project proposals will be required before a team can be included in the competition and must be submitted by April 1, 2018. Each proposal must include information about the team, including the number of members and their occupations/qualifications, the team's affiliation with other entities such as universities or companies, and the name of the team leader. To learn more about the Monarch Butterfly Flight Challenge and the submission process, visit MBFC.