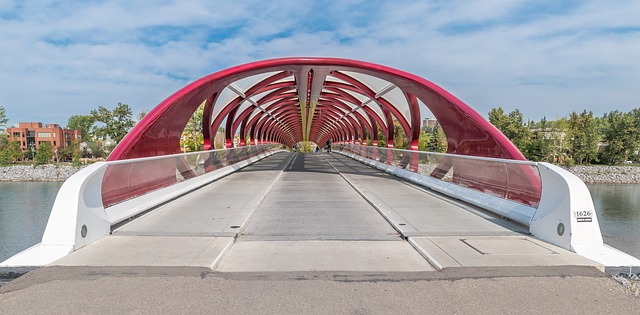 Because pedestrian bridge design differs from the auto and rail bridges, researchers from Georgia State University and the Volga State University of Water Transport in Russia have created a computer simulation to help prevent pedestrian bridges that wobble.
Detailing their work on the site Science Advances, researchers noted that designing a pedestrian bridge, which tend to be lighter, means that designers have greater artistic freedom to add touches that don't necessarily work on bridges meant for automobiles and trains. Consequently, the lighter bridges tend to wobble, especially when a number of people use the bridge simultaneously. The back-and-forth wobbling is often due to the pressure of pedestrian feet on the bridge.
Looking at factors such as footfall timing and force, researchers built the simulation. Not surprising, was that researchers found that a "magic number" of people on a bridge at once would cause it to move. However, the most significant factor causing a bridge to wobble had to do with pedestrian reaction to minor wobbling. People often reacted to a wobbling bridge by walking in sync, which caused even greater wobbling due to the collective exerted force in the same direction at the same time.
The researchers plan to eventually test the simulation in real-world conditions.