It's much more energy efficient to keep a person warm or cool than to heat or air-condition an entire building,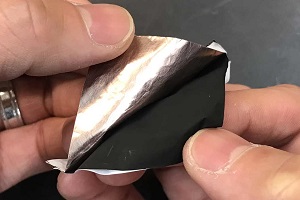 A new textile made from a reversible fabric could warm or cool wearers and keep them comfortable. Two layers of material with different abilities to release heat energy are stacked together and sandwiched between layers of polyethylene. (Image credit: Yi Cui Group/Stanford University)according to Stanford University engineers. Materials scientists have developed a reversible textile that can do just that. The new double-sided fabric can keep the wearer warm or cool, depending on which side faces out.
Their initial creation was a fabric that allows body heat to pass through and cool the skin. The opaque, breathable material, inspired by transparent, water-impermeable kitchen wrap, retains its ability to shuttle infrared radiation away from the body. The fabric was demonstrated in the laboratory to keep artificial skin 2 degrees Celsius cooler, relative to a cotton sample, and saved a building full of workers 20-30 percent of their total energy budget.
Realizing that controlling radiation could work both ways, the researchers next sought to provide a warming textile. Two layers of material with different abilities to release heat energy were stacked and then sandwiched between layers of the already-developed cooling polyethylene.
A copper coating on one side traps heat between the polyethylene layer and the skin and on the other, a carbon coating releases heat under another layer of polyethylene. Worn with the copper layer facing out, the material traps heat and warms the skin on cool days. With the carbon layer facing out, it releases heat -- keeping the wearer cool.
The sandwiched material can increase a person's range of comfortable temperatures over 10 degrees Farenheit, and the researchers theorize that with inhabitants wearing such a textile, buildings in some climates might never need air conditioning or central heating at all.
The researchers say that a practical, wearable fabric will be available when the textile is developed as a fiber-woven material, which should impart comfort, elasticity and strength.